The best design portfolios inform viewers of your work. And getting your portfolio right is vital – it can be the difference between getting hired or not. If you need to update yours, we definitely think looking at a few examples is a good place to start. 
There's an awful lot of portfolios out there though, so to help you out, we've gathered some of the best design portfolios on the internet. We've made sure to include portfolios from creatives of different disciplines, including illustrators, studios and freelance designers. Each excels in different elements, for example, while one may have stunning aesthetics, another may have a brilliant user experience. 
To start building your design portfolio, you need a platform to create it on. In which case, you can see our best website builder post or you can head over to the best portfolio templates or WordPress portfolio themes, which have pre-existing templates. But for now, just scroll down to indulge in some of the best design portfolios, listed in no particular order. 
Top design portfolio examples for inspiration
01. Bruno Simon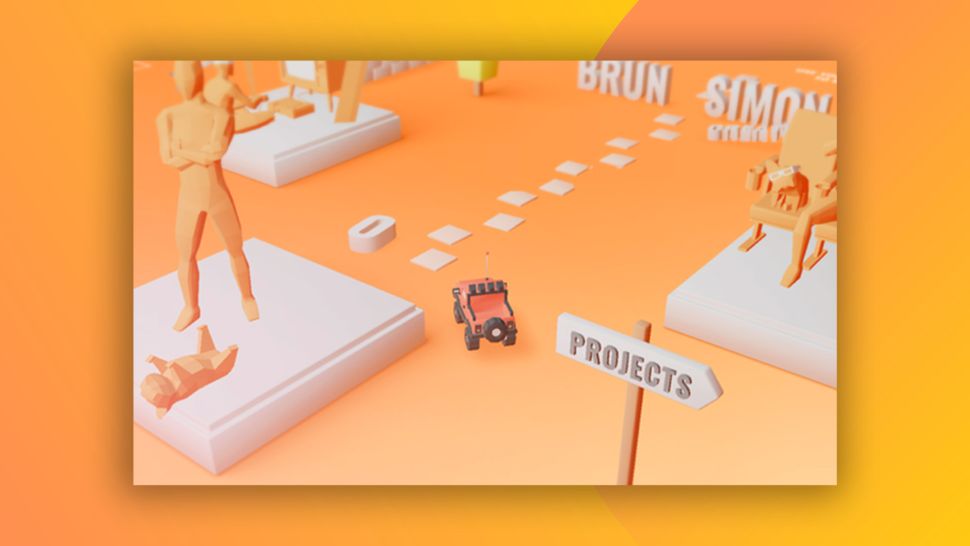 Paris-based creative developer Bruno Simon has approached his portfolio in an unexpected way. You can actually drive a virtual car between his projects and experience using a keyboard. In 2019, it won Site of the Year at awwwards, and it's not hard to see why. We wouldn't recommend this type of portfolio to everyone, but if you can make the design of your portfolio show off the skills you want to highlight, then you should.
02. Studio Feixen
This Switzerland based design studio is absolutely jam-packed full of fun and characterful work. Studio Feixen perfectly showcases its vibrant work with a mix-match style portfolio that abstains from a 'less-is-more' approach. Despite the examples being framed in a range of different sized shapes on the portfolio page, the site still looks cohesive.
03. RoAndCo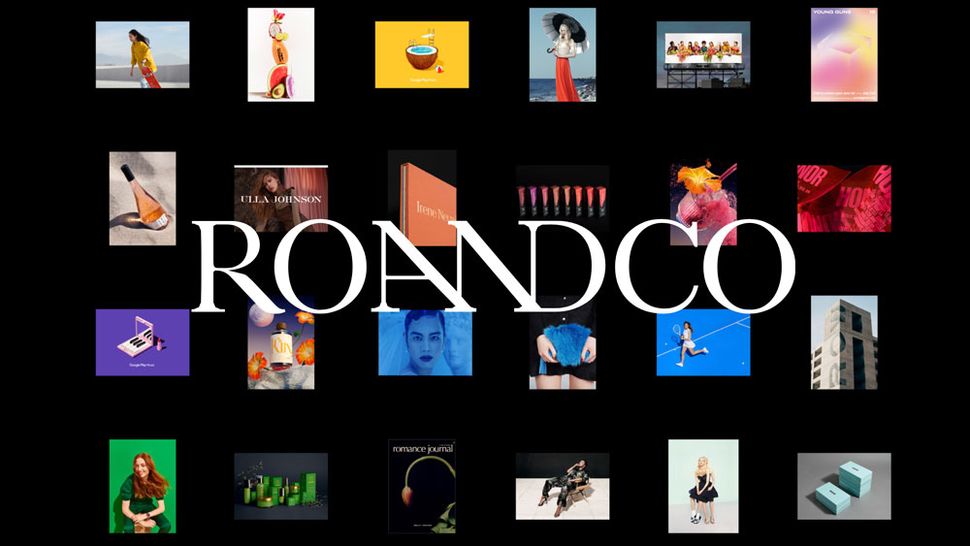 Founded by creative director Roanne Adams, NYC-based RoAndCo offers beautifully crafted design, branding and creative direction to clients in fashion, beauty, tech and lifestyle. Viewing RoAndCo's portfolio is an experience in itself, in keeping with the studio's work ethos. Projects are presented in an editorial-like fashion, allowing the viewer to flick through split-screen images, animated web presentations and full-screen video. It's a carefully considered design portfolio and a pleasure to view, whether you're browsing on a computer or a mobile device. 
04. Robin Mastromarino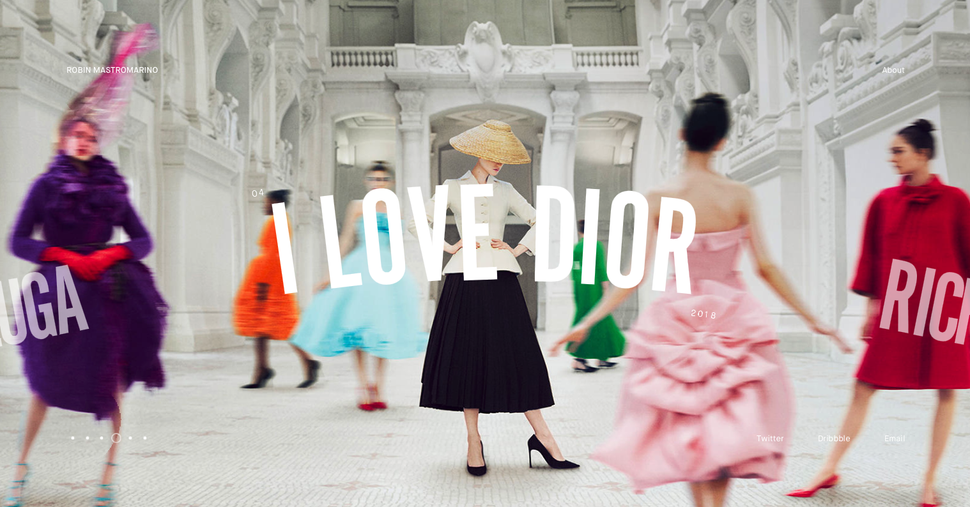 Paris-based interface designer Robin Mastromarino employs some neat UI animation touches to keeps things fresh on his design portfolio site. His projects appear as though they're on a wheel, juddering into view, which is an engaging effect. The images in each case study respond to scrolling by warping slightly. It's an effect that we wouldn't recommend for every creative, but for a UI design specialist, this strikes the right note and gives a taster of what the designer can do. 
05. Active Theory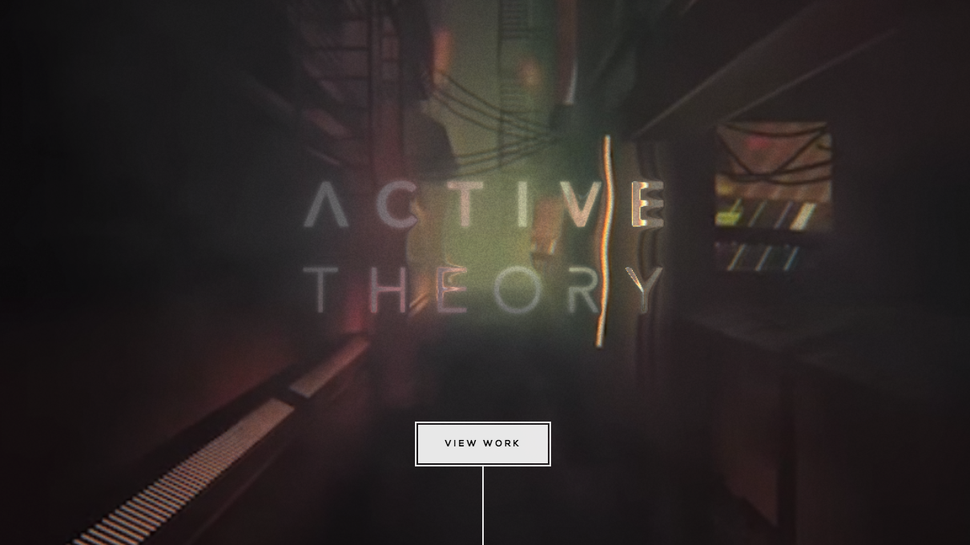 Entering Active Theory's portfolio website is like visiting a whole other world. It employs a moody, almost cyberpunk aesthetic throughout, and to great effect. From the atmospheric homepage animation with mouse-activated glitch effects to the trippy About page, the setting all gels together to form a cohesive package. The studio keeps things cleaner for its project pages. Each example features a full-screen animation overlaid with a short blurb and relevant links to further information, including detailed case studies hosted on Medium.
06. Raw Materials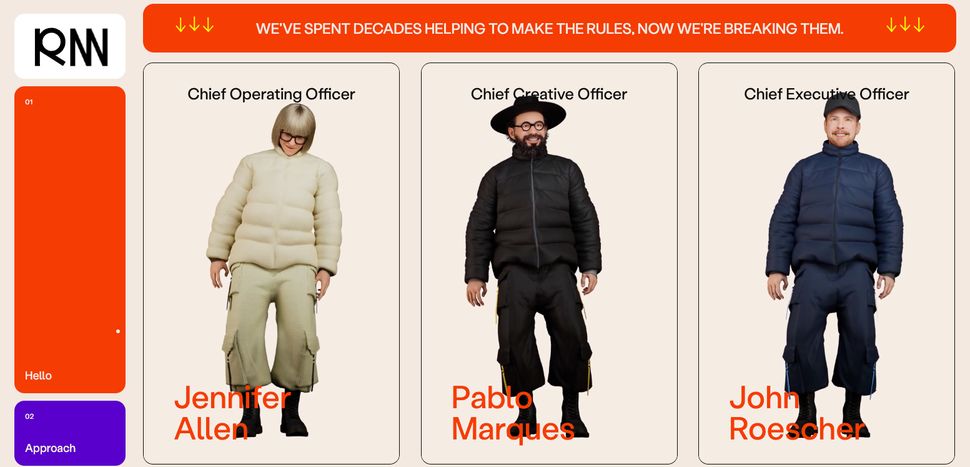 Raw Material's site is a feast for the eyes. The Work section is particularly fun, with more detail on projects shown through diagrams and images. We also like the 3D models in the 'Hello' section, which also appear in 'Contact'. Overall it's a fun fresh site that makes the studio stand out from the crowd.
07. Velvet Spectrum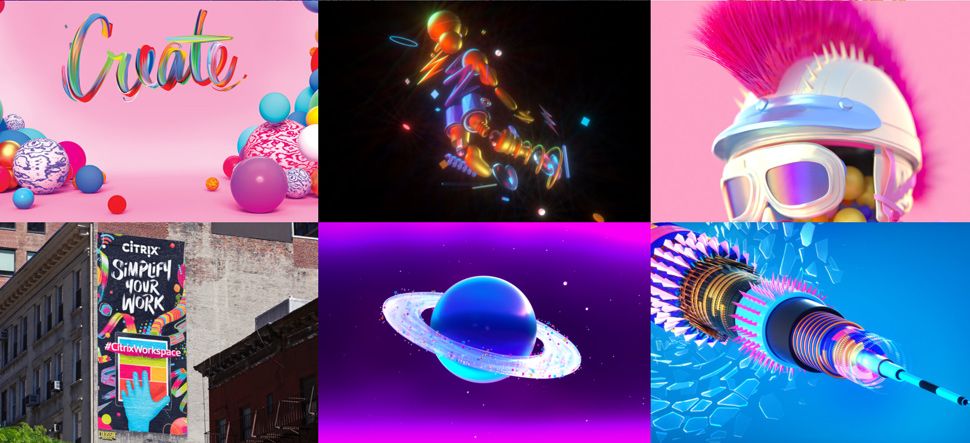 Velvet Spectrum is the online moniker of visual artist and designer Luke Choice. He shows that simplicity can also make an impact on his homepage, which shows a montage of uber-colourful thumbnails that lead through to visually arresting super-size examples of his work for maximum impact. The black background keeps things clean and helps the work stand out. It makes for a simple but highly effective design portfolio.
08. Locomotive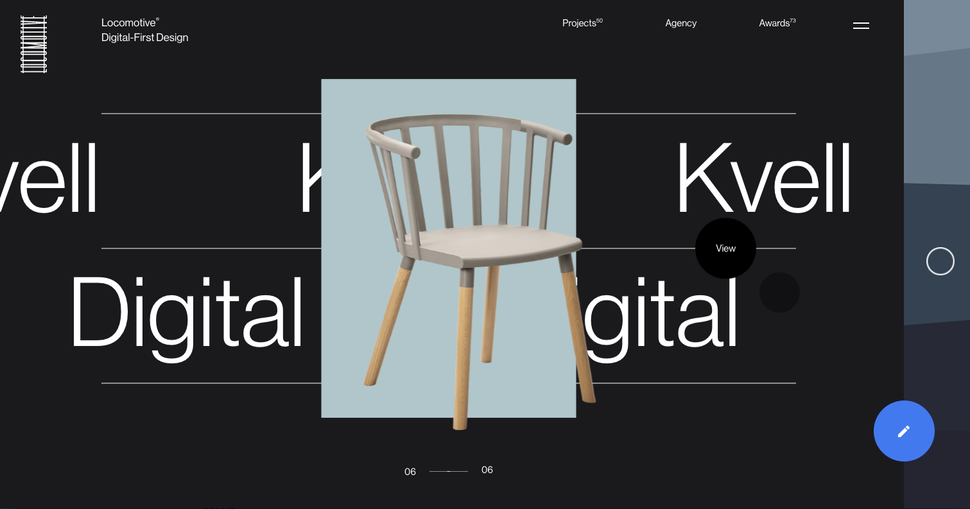 Locomotive, a studio based in Quebec, Canada, specialises in crafting digital experiences, so it's taken care to make its design portfolio site an all-round delightful and engaging experience. Playful, entertaining animations bring the site to life, and not just on the homepage. It seems like thought and effort has been put into every detail. Little surprises keep the viewer's interest while they browse through the site, making this a perfect example of how animated flourishes can be used effectively without them becoming gimmicky or distracting.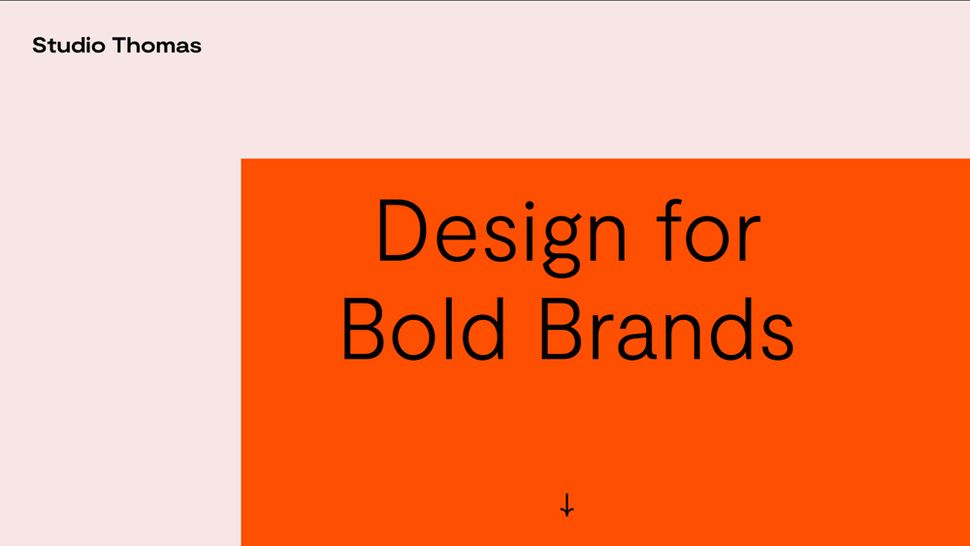 09. Studio Thomas
Named after its two creative directors, Thomas Austin and Thomas Coombes, Studio Thomas in East London creates visual communication for both physical and digital worlds. Its portfolio is a superb example of Brutalist web design with plenty of neat touches. Projects are presented in an orderly but eye-catching way with clear visuals and wireframe models. The site perfectly reflects the studio's explorative and experimental attitude, and it backs up the studio's claim to offer "design for bold brands."
10. Buzzworthy Studio
Describing itself as a "badass digital studio in Brooklyn", Buzzworthy Studio really needed to come up with the goods to back up that claim, and happily, its portfolio does the job. It features dazzling web techniques from the off. Bold typography and animation combine to grab your attention, and a strong eye for aesthetics ensures that viewers stick around to explore all of Buzzworthy's projects. It's one hell of a calling card.
11. Xavier Cussó
This stunning portfolio site for Barcelona-based designer Xavier Cussó was built by Burundanga Studio. It shows off Cussó's work with bold colours, in-your-face typography and practically every animation and parallax scrolling trick in the book. But that doesn't make it feel overloaded. The animation makes and impact and maintains the viewer's attention throughout.
12. Merijn Hoss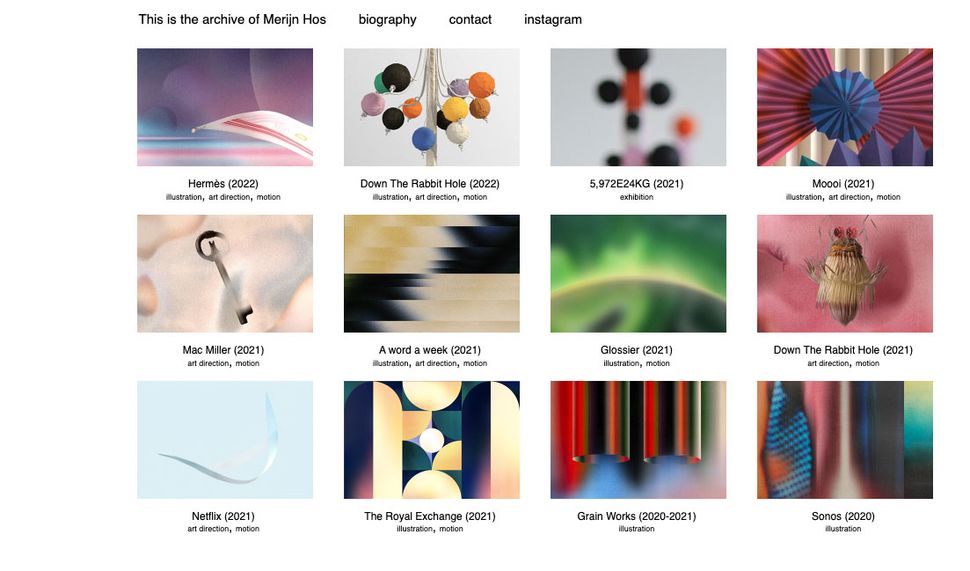 Illustrator and artist Merijn Hoss takes a more pared-back approach, but his design portfolio is still very effective. Hoss creates beautifully detailed psychedelic works of art, but his profile presents his work in quite a simple, clean format. It's one of the most traditional approaches we've included on this list of design portfolios and isn't nearly as flashy as some of the previous examples, but it works well because the colourful thumbnails really pop out of the gallery's white background, putting the focus on the artist's work. Click the thumbnails, and large project images and a short description are revealed. Hoss's design portfolio is proof that you don't need all the bells and whistles to make an impact.
13. ToyFight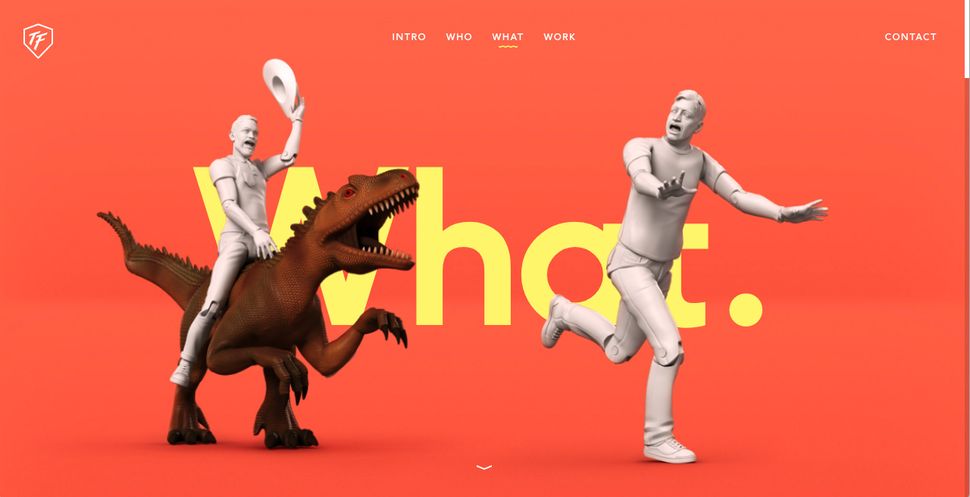 Manchester-based studio ToyFight uses a number of whizzy effects – from parallax scrolling to animated transitions and even 3D rendered versions of the studio's founders fighting each other. All of this could threaten to overwhelm the work on show, but seeing as it's been executed with such visual humour and panache, the site is a joy to explore. This is a good lesson in how personality can also sell creatives'  work.
14. Made Thought
The London and New York-based contemporary branding and design studio Made Thought shows that bigger can definitely be better with a portfolio that's impossible to ignore. With an onslought of text and images facing you straight away, that then gives way to stunning examples of work. It certainly feels modern, aided by the fact the studio regularly updates its portfolio site to keep it looking fresh.
15. Malika Favre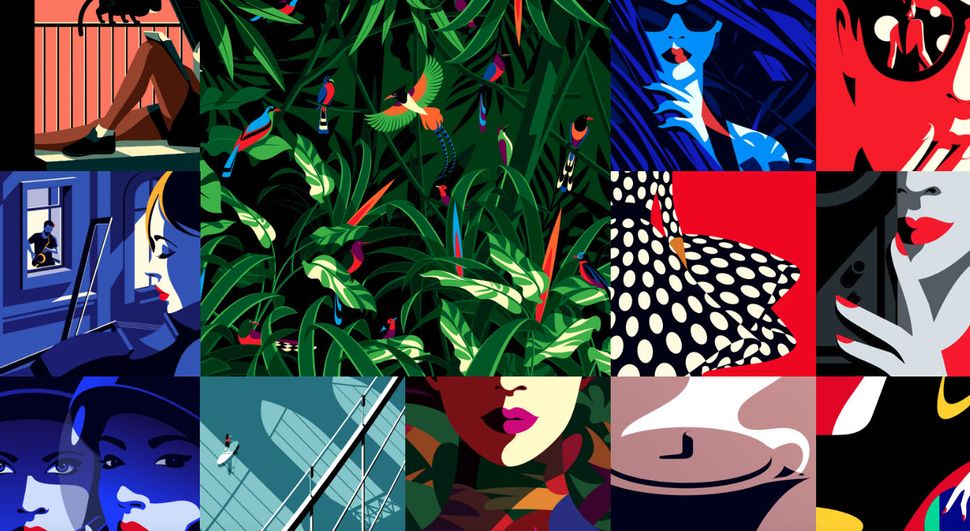 Illustrator Malika Favre uses a full-screen edge-to-edge tapestry of thumbnails to entice visitors into viewing her vibrant artwork in more detail. The colours and layout already draw attention, while the arrangement of animated pieces within still artworks serves even more to keep eyes on the screen. Once clicked, the thumbnails reveal a full-screen gallery presentation of the work featured. It's displayed on complementary coloured backgrounds that show off her work to great effect and makes for a bold, colourful presentation that grabs the viewer's attention.
16. Yul Moreau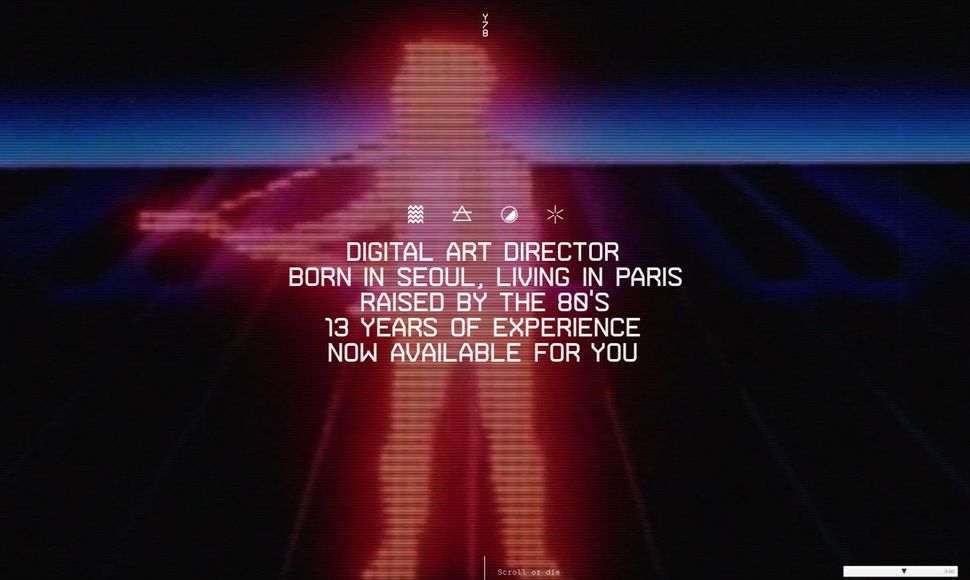 Born in Seoul, based in Paris and "raised by the '80s", Yul Moreau has a portfolio site that grabs your attention from the off with its splendidly garish background montage of retro video. This single-pager does a brilliant job of showcasing the art director's work, combining video, images, clever scroll effects and detailed text explanations to give a complete overview of his work.
17. Tim Smith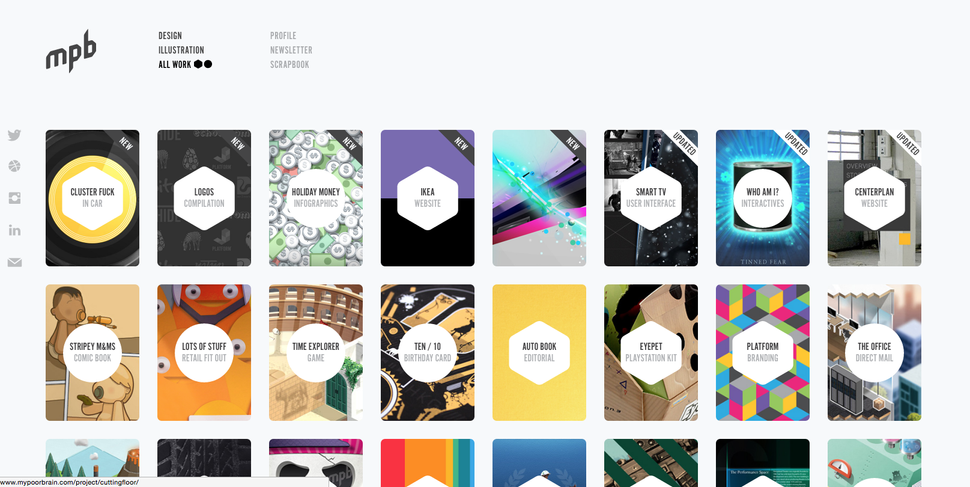 Boasting 'brain-powered graphics fun', Tim Smith's portfolio site uses CSS3 to throw in some clever HTML5 tricks on a spotlessly clean look. For each piece, there are cut-out titles that disappear as you mouse over them. The sidebar is also very nifty, switching from displaying social links on the front page and then navigation buttons for the portfolio pages. It makes for a snappy, swish and highly professional-looking presentation.