We live in a world of incredible innovation, smart devices and genius tools that can be carried on you at all times. With all of these advances in technology come some really cool gadgets.
You can pick up anything from incredible wireless speakers to hydration biosensors and everything in between. We are living in a golden age of gadgets and tech but it can be difficult to know what is the best of the best.
To make your life easier, we've done the research so you don't have to. Here are our picks for the best gadgets and new tech money can buy in 2023.
Cool gadgets and new tech for 2023
Ikea Vappeby shower speaker
This little Bluetooth speaker is ideal for those who want to listen to some tunes in the shower. It's fully waterproof, cheap, and comes in three different colours. You can even pair two together for stereo sound.
Better yet, at 50 per cent volume, the Ikea Vappeby shower speaker promises up to 80 hours of battery life on a full charge.
It is worth noting that the IP67 waterproofing is only so good, soaking the speaker can affect acoustic performance temporarily, but this is one of the best cheap portable speaker that works in the shower.
Canon Powershot V10
If you're looking to grow your YouTube channel and upgrade to 4K, the Canon Powershot V10 could be the camera for you.
This pocket-sized powerhouse is light, weighing just 211g, and is capable of filming in a wide-angle 19mm format in 4K UHD CMOS (55 minutes of shooting time). It has stereo microphones built-in with electronic wind shielding (and comes with cute miniature physical windshields), a retractable screen and stand, and more.
Due to its small build, you can take it just about anywhere with you for whenever inspiration strikes.
Philips Signe floor lamp
If you're on the lookout for a new light fixture, the Philips Signe floor lamp could just be the one you've been searching for. Owing to its minimal design and use of fully controllable gradient lighting, the Signe gradient floor lamp is a cool bit of kit.
By using the Hue app, voice commands, or smart accessories. you can control the gradient lamp and tell it which colours to use along its line of lights. You can blend colours for natural looks, go for something moody and dramatic, and even set dynamic scenes that move slowly through a light cycle to create whatever effect you'd like.
Sonos Era 300
You've heard of wireless Bluetooth speakers but how about an all-in-one surround sound system in one? The Sonos Era 300 speaker has Dolby Atmos capability with six class-D digital amplifiers and promises a rich sound with four tweeters and two woofers all in one speaker.
Working over Bluetooth, Wi-Fi, and auxiliary inputs with the Sonos Line-In Adapter to connect traditional devices such as vinyl turntables, CD players, and TVs, the Era 300 speaker is a great bit of tech for those who love streaming music and watching films in a simple to understand way without missing out on quality.
You can also pair two Era 300s together for superior surround sound and immersion. Ideal for evenings watching a film. Set it all up with the Sonos app and get the most out of your music library.
Ooni Volt 12
There are pizza ovens and there are pizza ovens. The Ooni Volt 12 is the latter as it is perfect for both indoor and outdoor use. It's lightweight and has a weather-resistant powder-coated outer shell so you should be able to store it outside just fine.
The Ooni Volt 12 is all-electric, meaning you won't need to deal with stocking up on wood pellets or dealing with the charcoal ash they leave behind.
You'll be able to set precise temperatures, timers, and a top/bottom balance with ease, allowing you to cook homemade pizzas in around 90 seconds. Don't worry if you can't be bothered with the timers or temperature controls – the Volt 12 also has automatic heat settings and lights up inside so you can keep an eye on your cheesy treat.
DJI Avata
First person view drones have really taken off recently. Allowing you to put on a headset and fly a drone from a first person view, these unique devices are the closest you can feel to flying like a bird.
DJI has released its latest version of this technology known as the DJI Avata. It is made to be more durable, and ready for any unfortunate crashes. You can pilot it via a controller or a joystick which mimics the movements of your hand. It also comes with plenty of clever features like the ability to use custom routes, follow a person or vehicle, and return to the starting point if it goes too far away.
Apple Watch Ultra
Apple has now been making its Watch series for a good few years, most of which have followed roughly the same formula. The Apple Watch Ultra takes all of the good bits of previous designs, and piles as much as possible on top.
While the result is a smartwatch that is by no means cheap, it has also resulted in the perfect device for athletes of all practices. Apple has kept divers, climbers, tennis players, martial artists and everyone in-between in mind.
It is durable, water-resistant up to 100 metres, can deal with extreme low and high temperatures, has an impressive 36 hour battery life, and has detailed apps to track your fitness and health.
Anker Soundcore Motion X600
This cool and relatively inexpensive portable speaker promises stereo spatial audio at an impressive 50W output. A modern-day boombox for the Spotify users among us, the Anker Soundcore Motion X600 is a quality choice for audiophiles everywhere.
The Motion X600 boasts five drivers and five amplifiers placed in the gadget to deliver sound all around you. It should make whatever you're listening to fill the space you find yourself in, inside or out and about. Remember to use the Soundcore app to alter your EQ for the best listening experience!
With a purported up to 12-hour playtime, the battery should last long enough for just about any function you're heading to or organising, and, better yet, it features IPX7 waterproof protection for those rainy days.
Nix Biosensors
The Nix Hydration Biosensor is a must for those who take running, cycling, or any other form of exercise seriously and want to get the most out of their training or workout.
This biosensor will analyse sweat levels and deliver real-time hydration data in the form of personalised notifications to your smartphone or watch. You'll be told exactly when you should drink, what you should drink, and how much you should drink to help ensure peak hydration.
If you're looking to break your 5km run personal best or 10k cycle time, it's definitely best to stay as hydrated as possible. Even mild dehydration can affect performance, after all.
Beeline Velo 2
Trying to get around a city on a bike is a stress like no other, attempting to navigate cars, people and lanes while also tracking your destination on your phone with a confused navigation system. The Velo 2 cycling computer is unfortunately unable to remove the cars and people in your way, but it can make the navigation easier.
This tiny circular device attaches to your bike, giving you easy minimal navigation instructions that are built from tracking real life journeys. You can also track your speed, arrival time, distance and check the time. It's even weatherproof!
Garmin Instict Crossover
Garmin's new Instinct Crossover Solar fits a niche group of people who seem to be exercising every second of the day. It doesn't really matter what your chosen sport is, the never-ending menus on this watch will have a mode for you. It tracks everything from running power, to heart rate, effective recovery time, and even how smoothly you descended a mountain bike trail.
When you eventually stop running, it can track your sleep and stress, and to fit even more exercise into your life, it uses solar power to stay on for an estimated 70 days without a charge.
Google Pixel 7
There area lot of smartphones out there, but realistically Apple and Samsung steal most of the limelight. With its two latest devices, Google has managed to join those top two, offering a pair of serious contenders in the Google Pixel 7 and 7 Pro.
In most of the obvious ways, these are great devices, dealing out solid battery performance, a strong processor, bright and colourful display, and even one of the best cameras we've used.
But in our Google Pixel 7 Pro review, it was the device's software that we were most impressed by. Able to translate voice notes to text, cut photo-bombers out of your pictures, and even screen calls so you can see if it is spam or not, the device offers a huge variety of ways to make your phone experience better.
iRobot Roomba J7+
iRobot, not to be confused with the 2004 Will Smith classic, is the leading creator of robot vacuums with the Roomba range. Getting smarter each year, the new Roomba J7+ combines both vacuum and mop in one machine. This itself isn't new, but the company has introduced a new self-retracting mop feature.
The mop lifts out of the way when it approaches carpet, only using the mop in the places you want it. In theory, this means a robot vacuum that can be fully independent and doesn't need to be assisted… so this is how the robot uprising starts?
Meta Quest Pro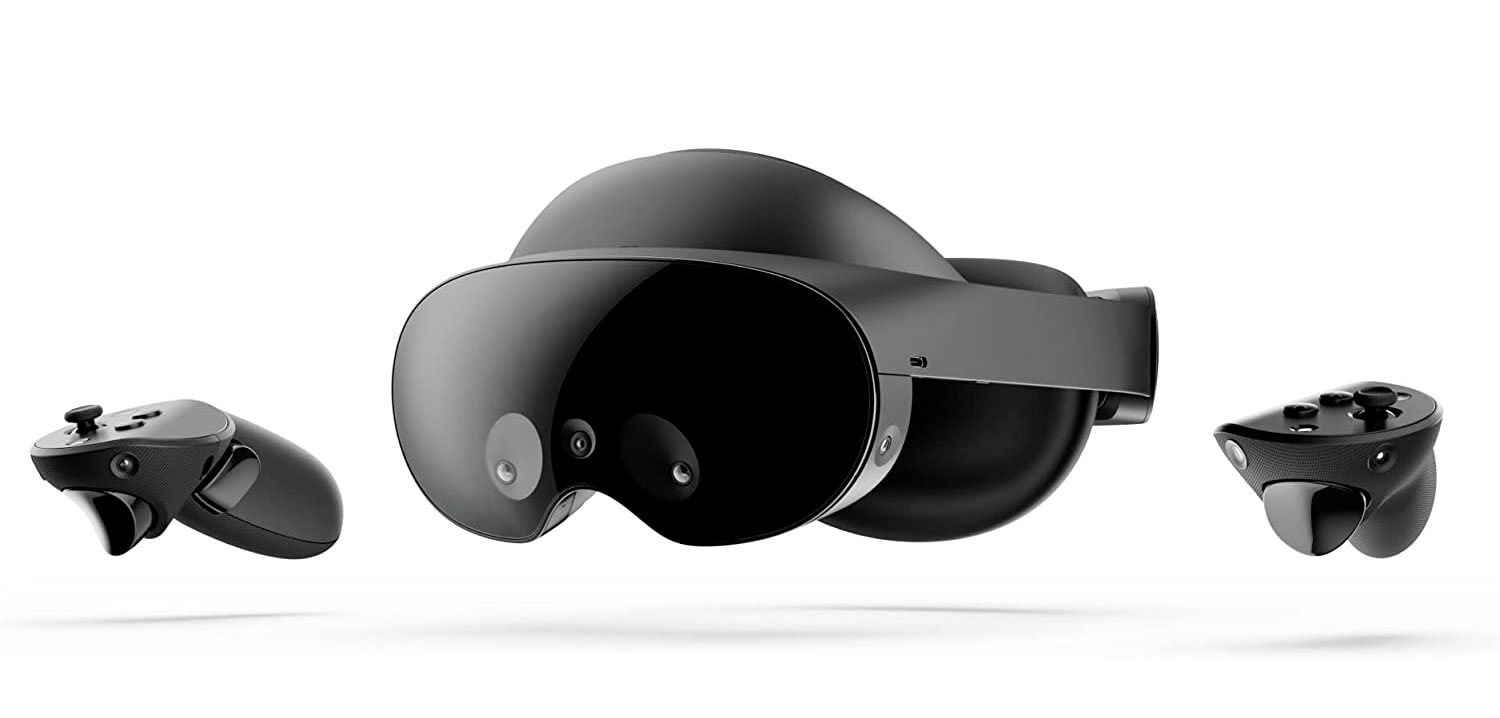 Ah yes, the metaverse – the supposed future of our digital world. While this new virtual land hasn't exactly begun successfully, many tech leaders are still very much of the view that we'll soon be plugged in, enjoying our own digital house, job and life.
If you want to get in now and enjoy the metaverse and virtual reality, the Meta Quest Pro 2 will likely be the best way to do this. Meta, previously known as Facebook, has poured money into this to offer the latest and most impressive specs available in the world of VR.
With all of its fancy new features and functions, comes a massive price tag of £1,499. It's the best VR can be right now, but the investment is only worthwhile for those who can't wait for the metaverse.
Apple Airpods Gen 2
For Apple fans, Airpods are likely the obvious choice for a new pair of in-ear headphones. If you are looking for the latest and best option, it will be the new Apple Airpods Pro 2nd generation.
While they don't come cheap, they offer Apple's best active noise cancellation outside of the incredibly pricey AirPods Max, as well as upping the battery life to get you 6 hours on a single charge.
The most important upgrade here is the new H2 chip. This aids the noise cancellation and allows the headphones to adapt songs to offer rich bass and clean high notes in real time.
RRP£249
Samsung Galaxy Fold 4
While everyone else quickly abandoned the idea, Samsung has been making real waves in the world of folding smartphones. Now on the fourth edition, the Samsung Galaxy Z Fold 4 is the most impressive folding smartphone to date.
It is water-resistant, has been tested to fold and close up to 200,000 times, and despite the hinge, this features one of Samsung's best displays. Whether you want to use it in tablet form, or in its cover screen, both look sleek and feel responsive with a 120Hz refresh display.
While its the best foldable device out there, that technology carries a hefty price tag.
DJI Osmo Mobile 6
When it comes to camera equipment, DJI has spread itself across the whole industry making a load of action cameras, drones and accessories. One of their latest devices is the DJI Osmo Mobile 6, a gimbal that you can use with your smartphone.
This will balance out your movement when you are filming, allowing you to take smooth video even when you are running, driving or otherwise throwing yourself about.
Through the use of DJI's ActiveTrack 5.0 software, you can track a subject smoothly, keeping them in frame, even when they are moving about.
The gimbal also includes a host of buttons for zooming, cinematic blurs and other similar effects.
Amazon Kindle Scribe
Amazon has come a long way since its first Kindle device, but a feature that they have been slow to take up is the stylus. Now, with the Kindle Scribe, you can scribble notes on the book you are reading, make handwritten notes, and generally get more out of your Kindle.
The device also features one of Kindle's best displays, meaning you can continue to read in bright lighting. There is also a warm light setting for when you want to wind down and get ready for bed.
Nothing Phone 1
The brand Nothing (best known for headphones so far) has had the world of tech enthusiasts patiently waiting for the reveal of their new smartphone. They promised something a little bit different, and they delivered on that.
The back of the device is transparent, allowing you to see the inner-workings of the device. On top of that, it features a number of LED lights that the company has called 'Glyphs'.
These lights flash in different ways to inform you of incoming calls, texts, social media notifications and plenty of other alerts on your device.
Elsewhere, the team at Nothing have fit in a sold battery, strong camera performance and a good display.
Read our full review of the Nothing Phone 1
RRP£399
HyperX Cloud Alpha
The HyperX Cloud Alpha are a pair of gaming headphones that offer one thing above all: a fantastic battery life. HyperX claims that these headphones offer 300 hours of battery life. That means you can use these headphones for just over 12 days straight without a charge, although we would really recommend a break in there somewhere!
Other than how long they'll last, these headphones also feature a powerful crisp sound and a truly excellent microphone quality.
RRP£189.99
Sony WH-1000XM5
Back in 2018, Sony released what would become one of the best pairs of headphones available – the WH-1000XM3. Since then we've seen the XM4, and now, Sony has followed up with the WH-1000XM5. If you ignore the somewhat painfully dull naming conventions, these, like their predecessors, are some of the best headphones around.
Scoring 5 star reviews all around, the Sony WH-1000XM5 are very much designed for those who would rather not splurge on a pair of Apple AirPod Max headphones.
In terms of specs and audio, these are extremely similar to Sony's renditions from before. They offer market-leading audio across the low's, mids and highs, excellent noise cancellation, and you get an array of smart ambient features.
The biggest difference with these headphones is the design, offering a completely new look to their predecessor. More minimalist and lighter too.
RRP£380
MacBook Pro with M2 chip
Does Apple's new MacBook Pro reinvent the wheel? No. Does it feature ground-breaking new features and a revolutionary design…? Also no. What Apple's new MacBook Pro does is ramp up specs and improve on an already popular design.
It continues to feature the touch bar (very much a love or hate feature), it offers more RAM allocation, the charging is faster and the Pro now features Spatial Audio.
However, the biggest change here is the processor, now featuring Apple's M2 processor chip. This makes the 2022 MacBook Pro an incredibly powerful computer. Finally, we have an Apple laptop that can keep up with gaming alongside the demands of professional editing and creative software.
RRP£1,349
DJI Mini 3 Pro
Every year, DJI's Mini series gets smaller and yet more powerful, cramming high-end specs into a lightweight drone that you can chuck in your bag.
But with all those improvements, comes an eye-watering price, and an increasing fear for your financial status if you crash it. It offers advanced obstacle avoidance features, a rotating lens so you can film portrait or landscape, 4K video, smart flying features like automatic tracking and the ability to follow a subject.
Despite its higher price, this feels like the perfect drone for beginners, those who like to travel, or really anyone in the market for a light-weight, high tech drone.
VAHA S Fitness Mirror
Sure, you could go the gym… or, the gym could come to you. That's the idea of the Vaha S Fitness Mirror, giving you a full size mirror that can play over 850 workout classes, and connect you with personal trainers in real time.
The mirror itself is a 32-inch Full HD touchscreen, complete with 30W speakers and a brushed metal finish.
While this is without a doubt one of the the more impressive home workout options, it is also pretty pricey. The mirror alone will cost you £1195 and then there is a £39 a month payment to access classes.
For more cool gadgets, see our round-up ofthe best smart mirrors to buy for your home.
Therabody Wave Roller
The Therabody Wave Roller takes the traditional model of a foam roller and throws a bunch of tech into it. Through the use of vibration therapy and a wave-style texture, this roller helps to work out all of your aches and pains.
It comes with an app that can guide you through a rolling routine, five customisable vibration frequencies and can be used anywhere on the body that needs working out.
RRP£125
Generation Zerøgrand II
The sustainable shoe market is blowing up right now, with major companies trying to create the shoe that leaves the smallest carbon footprint. One of the more unique attempts at this is the recent Generation Zerøgrand II.
These shoes from Cole Haan are made using almost entirely recycled materials. The upper design is made with vegan microfiber made of 21 per cent recycled content and a felt fabric made of 85 per cent plastic bottles. The laces are completely recycled, and the most unique part, the soles have a minimum of 25 per cent natural dandelion rubber!
Sony Linkbuds
Sony has always been at the forefront of headphone technology and with its latest pair, it is doing something rather unique. These headphones feature a hole in them (by design – don't worry, no parts are missing). This means you can be more aware of your surroundings and people desperately trying to get your attention while enjoying your music. It features other clever features like touch control by tapping the skin by your ear and volume that adjusts to match your environment.
RRP£149
Urbanista Los Angeles headphones
Charging devices is one of those daily pains that we could all live without, and while battery lives have improved, it is still a regular occurrence. This is a problem Urbanista is attempting to resolve with the Los Angeles headphones.
Lined with a solar cell material, these headphones will constantly charge themselves throughout the day as long as there is light. This works both inside and out in the big wide world and theoretically removes the need for charging.
Along with the unique charging feature, the Los Angeles headphones also include active noise cancelling, ambient sound mode and voice assistant features.
RRP£169
AllBirds Tree Dasher 2
The AllBirds Tree Dasher 2 are a pair of shoes that will especially appeal to the eco-friendly runner. Made from a eucalyptus tree fibre knit, with shoelaces from recycled plastic bottles, this is a shoe with a small carbon footprint.
Despite this, these shoes still offer a comfortable performance and a lightweight design – perfect for both long-distance runners and rapid sprinters.
LEGO App-controlled Transformation Vehicle
When it comes to LEGO, there isa lotof choice. However, this new LEGO Technic set has a unique feature to help it stand out – the ability to control it via an app.
With the app, you can drive the vehicle around, and when you flip the car over (or hit a wall), it will reveal a completely different car below. Because the LEGO car features suspension, you can even drive it over uneven surfaces.
For more LEGO Technic picks check out our list of the best LEGO Technic kits.
RRP£129.99
Skydio 2+
There are a lot of drones on the market right now, all offering something slightly different. However, Skydio's 2+ has a unique feature we haven't seen elsewhere that really helps it to stand out.
Through technology known as Keyframe, you can plan out routes that the Skydio 2+ will follow. You can define complex camera movements and then choose what speed the drone will approach these routes.
Skydio's aim with this feature was to be able to give anyone the ability to get clean drone shots, no matter their level of skill. Equally, you can use this feature to film yourself doing something if you don't have someone to pilot it for you.
RRP $1,099
$899 shop.skydio.com
DJI Action 2
DJI, along with GoPro, is one of the biggest names in the action camera market and with the Action 2, they are going all-in on modular features.
With strong magnets attached to the camera, you can quickly switch attachments, throwing on a tripod, helmet mount, waterproof cases, a screen and other features you'll need when trying to keep a camera attached to your body as you leap off a cliff.
Along with the magnetic modular attachments, the DJI Action 2 also succeeds at the features we would expect from an action camera. It offers 4K, 120fps footage, it has image stabilisation to keep your footage level through the action and it is water, dust and drop-proof.
Rocketbook Smart Reusable Notebook
For the eco-conscious note-taker, this smart notebook has 32 pages that are easy to wipe clean with a damp cloth when paired with Pilot Frixion pens. The first reusable notepad of its kind, they claim it feels just like writing on a traditional pad thanks to its special space-aged paper.
Available in a variety of sizes, it's also compatible with the Rocketbook app. This allows you to scan your notes which will then be saved into a cloud of your choice, so you'll never lose your work and can easily revisit any sketches, notes and lists in the long run.
RRP £34.99
KODAK Luma 150 Pocket Projector
Portable enough to fit in a briefcase if you need to produce a presentation for work, or your backpack if you'd like to watch a film or enlarge your gaming experience on the go, the KODAK Luma 150 portable projector promises to expand the screen to up to 150 inches while delivering bright, vivid images.
It has built-in, surround-sound speakers and a headphone jack for private viewing, with a battery run time of up to 2.5 hours, which is rechargeable via mini USB.
Biolite FirePit+
We love bonfires (and barbecues!) but it does get tiresome having to dance around the fire all evening to dodge the eye-watering smoke. The FirePit+ eliminates smoke by making your fire hotter. Battery-powered fans at the bottom of the fire basket stoke the flames from beneath, while the mesh sides let plenty of air in.
The improved airflow means the flame burns hotter and more efficiently, therefore producing less smoke. Plus, you can put some charcoal in and rest a grill on the top. The fans last between 7 and 30 hours depending on how high they're turned up, and the battery can be recharged via USB.
RRP £299.99
TrinoXO Tee
An odour-fighting T-shirt made of recycled crab. Yes, you read that right. This unassuming T-shirt is made of chitosan, a material obtained from the exoskeletons of shellfish.
It's one of the most abundant ingredients on the planet, so its creators, Allbirds, decided to use it to make some of its clothing line. According to Allbirds, this special blend also has odour-fighting properties (it presumably has a surface that's hard for smelly bacteria to colonise), which hopefully means you have to wash it less, and it'll last longer.
RRP £45
Simba Hybrid Luxe Mattress
A good night's sleep is one of the most important things you can do for your health and wellbeing.
Memory foam mattresses are fashionable, but their spongy embrace isn't for everyone. Simba's patented hybrid solution pairs springswith open-cell foam, a memory foam-like material with internal pockets that allow the mattress to disperse heat. This createsa mattress that's firm, ensures two people sleeping in a bed won't feel each other move around, and is cooler than memory foam.
The company's latest upgrade, the Hybrid Luxe, adds a second set of springs to provide extra support and remove any chance of sore joints for side sleepers. Plus, Simba has added a breathable bamboo wool layer just beneath the top layer, to help regulate your temperature and fend off a sweaty night's sleep.
From £1,099 (single mattress)
Transparent speakers
Apart from public toilets, there are few things in life that aren't made better by being see-through. Case in point, this speaker that replaces its housing with tempered glass.
Its creator, the Swedish design studio Transparent, says that its speakers use durable, recyclable materials. Each of the devices can be used alone as a Bluetooth speaker, paired together as a stereo sound system, or plugged into existing audio equipment.
It's upgradeable too, with a compartment at the rear that can hold and power various modules – a voice assistant, for example, or new wireless tech.
North Face Dryzzle Futurelight Jacket
A three-layers coat, the oddly named Dryzzle Futurelight provides a combined high durability and waterproofing to keep you safe out in the heavy rain. North Face applies a material that allows for great breathability so along with not getting wet, you also won't feel like you're getting overly stuffy.
RRP£215
Sonos Arc soundbar
Offering up a hard-to-beat balance of features, design, ease of use and performance, the Sonos Arc, the company's first Atmos soundbar, is an easy product to love. There are very few soundbars out there that do so much so well. In fact, it's our pick for the best soundbar.
No matter what you're watching, it sounds superb. There's a stunning clarity to dialogue, a fullness to bass and stacks of detail across the frequency range. But when you listen to an Atmos soundtrack, you really hear the added breadth and depth you'd expect from a more immersive 3D soundstage, with sound effects that are placed precisely around and above you, delivered by the Arc's carefully angled drivers.
Of course, it'll fit into a wider Sonos multi-room system if you have other Sonos speakers, or act as a superb sound system on its own for crisp, expressive music playback. Its size means you'll probably want a 55-inch TV or larger though, as it'll dwarf anything smaller.
NuraLoop headphones
What if your earphones could give you a hearing test and tune your equaliser to reflect the frequencies you are most, or least, sensitive to? That's the idea behind the Nuraphone, which we first tested a few years back in headphone format.
During setup, the original Nuraphones would fire out a range of frequencies and then measure your ear's response to each of them, building a sound profile that perfectly equalises the output to your hearing. The company has now shrunk their clever tech and shaped it into a set of Bluetooth earphones called the NuraLoop.
They're packed full of all the other tech you'd expect – like active noise-cancelling and touch controls – but there are a few extra smart touches, like the magnetic analogue jack that lets you connect to your earphones with wires, or the smart on/off feature that automatically switches them on when you put them around your head.
But most importantly it's the sound that really sets these apart. Like the Nuraphones before them, what you hear is nothing short of exceptional, especially for a pair of headphones under £200, with everything wonderfully balanced, letting sounds you didn't know even existed drift into the mix. Dare I say it, but I think I might even have heard the bass track on Metallica's …And Justice for All (maybe).
The only EQ option you have (or really need) is an Immersion setting, which is basically a bass boost. Of course, all this goes to pot as soon as you listen to someone else's sound profile, but then that's sort of the point. We all have different ears and respond to different frequencies, so the fact that my partner's profile sounds like a swampy mess to me suggests that yes, maybe I did spend far too much of my youth turning it up to 11. – AM
RRP £199
Flare Calmer
What are the most annoying sounds you can think of? Nails scratching down a chalkboard? Car alarms? It could be that our ears, through thousands of years of evolution, are sort of designed to find these sounds particularly unpleasant to act as a warning that danger is imminent.
That's great for our ancient ancestors, listening out for prowling sabre-tooth tigers, but for us modern humans it's just plain annoying. In fact, according to audio specialists Flare, the shape of the eardrum itself acts as a bell, adding 20db of distortion-causing resonance.
This irritating distortion could impact on our mental and physical wellbeing, so the idea behind the Flare Calmer earplugs is that they change the shape of the eardrum to cut out the particularly annoying distorted frequencies between 2,000-8,000 Hz. By doing this, they claim to reduce ear fatigue, noise-induced headaches and overall stress levels.
So does it work? Well, it's hard to tell how much earplugs can reduce your overall stress in the midst of a global pandemic, protests in the streets and the ever-present threat of a toddler walking into your Zoom meetings, but what is certain is that after using them almost constantly for a few weeks now, there are definitely benefits to having them in.
For a start, it is noticeable that the very worst day-to-day frequencies are reduced, and this has the knock-on effect that they are ultimately less annoying. The same can be said when you have them underneath headphones, and although they change the sounds slightly, it makes music a little warmer and notches down the intensity.
Another side effect that has been noted by other users, not that I can verify and was entirely unexpected by Flare, is that it reduces the constant ringing experienced by those suffering from tinnitus. – AM
Ember Mug2 and Travel Mug²
Nothing stirs the soul of a Brit more than the thought of a piping hot cup of tea. However, a cold and forgotten cuppa is practically an insult to Queen and country. The Ember Mug2 is a very elegant (if expensive), solution to this distinctly British problem.
By connecting the Ember mug to your smartphone via the accompanying app, you get a notification when your brew has reached your perfect temperature, and a heating element in the bottom of the mug keeps it toasty warm until you have finished every last drop.
Weirdly, when we tested it out we found you had to use two teabags to get a good strong brew and were a little disappointed that it can't be charged via USB (something to do with it drawing a lot of power means it needs its own plug socket), but that is a small price to pay for a sizable 414ml mug of perfectly temperate tea. Milk, no sugar (and two bags) please.
You can also now pick up the Ember Travel Mug², which is great for warm drinks on the go.-AM
RRP £129.95
Theragun Prime massage gun
Recently you might have noticed that social media is filled with deeply satisfying slow-mo videos of people pummelling their legs with massage guns, but what exactly is going on? Well rather than having to fork out on physiotherapy, massage guns are like having a private masseur on hand for a quick post-workout session – the Theragun is the one such gadget.
It looks like a cross between a weapon and a power tool (and actually when you switch it on you could be forgiven for thinking it's both) but in reality, the Theragun Prime is a percussive therapy device, designed to massage your muscles by rapidly applying pressure to your body up to 40 times per second.
It claims to get 60 per cent deeper into your muscles than other massagers, increasing blood flow and reducing inflammation, muscle tension, and working out any knots that have developed.
RRP£275
Read more about the science of health:
The triangular handle makes it easy to hold from any angle, allowing you to really pick out problem areas without having to bend at all angles to get at it, and while it's far from silent, it's definitely not as loud as something beating at 2,400 percussions a minute in your hand should be.
The documentation for how to use the Theragun could do with a little work, and the app isn't super helpful either, offering only a few routines and a guide as to how much pressure you're applying. In fact, it was two weeks before I discovered you could switch it on without even needing to go through the app, however, once I worked out this now very obvious feature, I was using it daily.
It was a revelation to be able to pick it up and work on knotted muscles I didn't even know existed and massage specific parts of my body that were feeling sorry for themselves after working out all day (read that as standing at my desk).
I've mostly been using it at the beginning of the day to get the blood flowing and at night before bed, and it definitely releases some of the muscle tension that has built up over the day. This being said, I'm no medical expert, so it's worth researching online to find out exactly how to use it safely. – AM
£275
Looking for even more cool gadgets?
Wow, you've made it this far… you must really like gadgets! That's great, but the fun doesn't end here. We regularly update this list so bookmark it if you want to see the latest tech news and what we reckon are the must-have gadgets to get your mitts on this year.
And if you think we've missed some blindingly obvious devices then let us know on Twitter and we'll have a look at it in the near future.
While you're here,, why not check out our roundup of the best cheap gadgets on the market?