This month's design news looks at buildings in Africa and London and investigates how architects shape our cities. It also offers ways of getting away from it all with green energy on the go and 3D meeting pods that put Zoom to shame.
---
As summer rolls in with the lure of camping, travelling and life in the great outdoors, new green-tech start-up Levante is hoping to launch a way to make your getaway a little easier. The company is kickstarting a portable solar panel this month to make trips simpler and more sustainable. Their origami-inspired design will be the most powerful on the market (up to 500W), while being 40% more compact than its competitors.
The Milan-based company is run by Sara Plaga and Kim-Joar Myklebust. The couple who met at a music festival in Denmark in 2009, have lived in 10 cities around the world and love spending their spare time sailing and camping. Myklebust previously worked in motorsports and it was his knowledge of composite and mechanical engineering which helped create their new product. It will be made in Turin, Italy.
"We're determined to revolutionise traditional solar panels which are fixed structures constrained to a surface," says Plaga. "You can use our solar panel in many different settings – just fold it, take it with you and use it in your RV, at home or anywhere you like."
For more details and for the kickstarter page, go to the levante website
---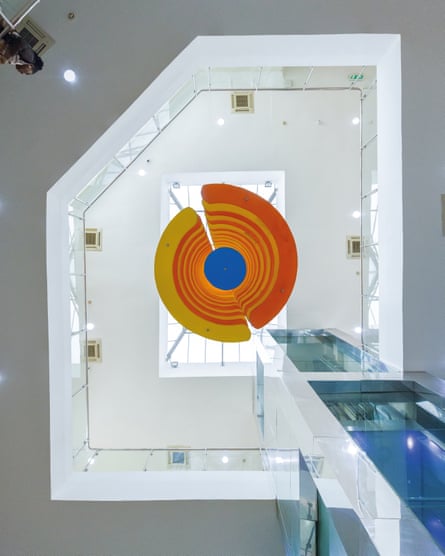 Nigerian architect Olajumoke Adenowo says she started her monograph Neo-Heritage because she believes Africans need to define their own history, otherwise others will continue to do it for them. It's a commendable mission statement and, as Adenowo is one of Nigeria's most well-known architects, her thoughts on contemporary African buildings in her homeland deserve to be heard on the international stage. Nigeria is also home to hundreds of languages, cultural groups and communities of different heritage, making it a fascinating mixing bowl of ideas and influences.
The eldest daughter of two professors, Adenowo spent her childhood in different cities and universities across Africa and Europe. She attended Obafemi Awolowo University in Ife, Osun state, Nigeria, enrolling at the tender age of 14. She says the campus, designed by Bauhaus-trained architect Arieh Sharon, was a big influence on her architectural style. Her other passion is traditional Yoruba buildings and the practical and creative traditions of Nigerian architecture. As well as looking at the ways light, air and ideas of beauty are key to African practice, she also looks at the importance of recycling and reusing expensive and complex materials.
And she explains in the introduction to this fascinating book: "If African voices of every race, tutored, nurtured, speaking from the continent, do not define Africa, the African way of life will never be truly understood."
Olajumoke Adenowo's Neo Heritage – defining Contemporary African Architecture is published by Rizzoli
---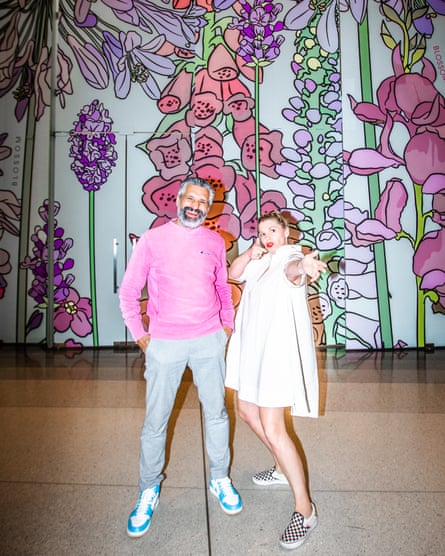 Lee Baker and Catherine Borowski have brought delight to many dull urban sites with their work as public art curators. As the driving force behind Skip Gallery, the pair have had these waste containers turned into houses, libraries and even held art classes in them. But their latest venture gives a new imaginative twist to city landscapes. They're bringing flowers to the streets with their Graphic Rewilding project.
"It's been shown that exposure even to pictures of plants has a positive effect on the mind," explains Baker, whose art is used in this new project. "Patients who can see images of nature in hospital waiting rooms have lower levels of stress and anxiety. These pictures increase activity in brain regions associated with attention and emotion regulation."
Baker and Borowski's nature-inspired installations give building facades floral makeovers and add meadows to billboards. Their latest installation is their largest yet: an attempt to rewild London's Westfield shopping centre with 8m-high wildflowers.
"About 10 years ago I had a breakdown," says Baker, "and one of the only things that soothed my mind was drawing flowers and making art in forests. The journey of taking my intimate artworks and blowing them up huge has been immensely cathartic. I used to hide the images, almost embarrassed of them, that perhaps they would be judged as unmasculine, populist or shallow."
Both Baker and Borowski grew up in cities, so the pair know how important any oasis can be. "We created a project blending art and planting inspired by Victorian pleasure gardens on unused land on a busy London road. People used the space, to play, to eat their lunch, to relax. They said that there was hardly any public green space in the area and that even our theatrical garden was a hugely welcome addition to their community. This isn't isolated, we see this reaction time and time again, and it represents what we want people to get from experiencing our art."
Commissioned by Zoë Allen of Artistic Statements, the Rewilding Westfield installation is open over the summer
---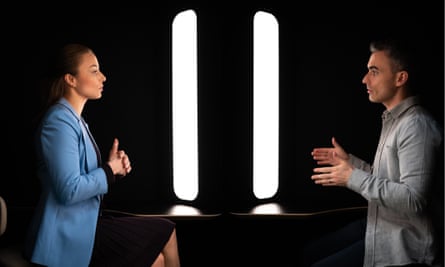 We can all agree working life has changed post-pandemic. Between hybrid hours, remote working and random Zoom and Teams meetings, company life in 2023 can feel confusing – more WTF than WFH. Now a Finnish company has come up with a novel design that might point the way to a happier, more productive work life.
Framery Contact is a virtual meeting pod that recreates the experience of real face-to-face conversations with an accuracy unmatched by your wobbly internet connection and Bluetooth headphones.
The visually and acoustically isolated pod uses highly realistic projection technology, LED lighting and active audio monitors to connect you to anyone else using another pod. While traditional video calls hide non-verbal cues – such as body language and eye contact – using Framery Contact means the other person appears in front of you, as if in real life. Very Star Trek. And the pod isn't just for work: it's easy to think of applications including connecting with elderly relatives, private consultations or hooking up with loved ones in a way that your phone screen can't compete with. It can also be used as a sound-proofed, comfy cubicle for getting stuff done.
frameryaccoustics.com
---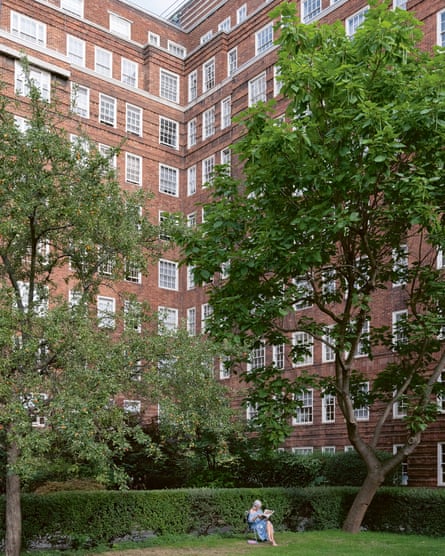 London's blocks of purpose built flats tell the story of the city's development. These mansion blocks dominate the metropolitan boroughs from Westminster and Kensington's upscale, if compact, living quarters from the Victoria era to the modest modern-day apartments recently built in Stratford and Kilburn. Introduced in the wake of slum clearance, but also developed as a way to tailor make homes for particular demographics (the bachelor flats of the 1890s didn't have kitchens, for example), mansion blocks have always been seen as the answer to London's chronic housing crisis.
At Home In London: the Mansion Block is a new survey of these characterful flats and how they came to define London, documenting work by everyone from Victorian architects Boehmer and Gibbs and 1930s modernists such as G Kay Green and Gordon Jeeves to the modern take on mass living by Alison Brooks Architects. This book is the first in a series on London housing commissioned by The Architecture Foundation reflecting on the place of the home in the city.
At Home in London: the Mansion Block by Karin Templin is out now