Let's face it, some people are really hard to shop for at Christmas. But if you know the person you're seeking a gift for loves technology and the latest tech gadgets, we have some really great gift suggestions. Some of these tech-minded Christmas gift ideas are practical, such as portable charging stations for smartphones and smartwatches, while others are just plain fun, and the tech can be enjoyed for years to come in your kitchen, on your patio, or wherever you travel.
Related: How we select our products
Even if you're not tech savvy yourself, this roundup explains everything you need to know to find and purchase the ideal tech-related Christmas and Hanukkah gift for a friend, loved one, coworker, or just about anyone else on your list. Whether money is no object or you're balling on an under $100 or even an under $50 budget, you'll find something on this list of the absolute best holiday tech gifts. 
The absolute best tech gift ideas for Christmas

We've put together a cool list of tech gifts featuring the hottest and newest gadgets around. These gift ideas are all about bringing the latest tech trends into your life, making things easier, more fun and way more convenient. 
For the movie fan: Nanoleaf 4D screen mirror and light strip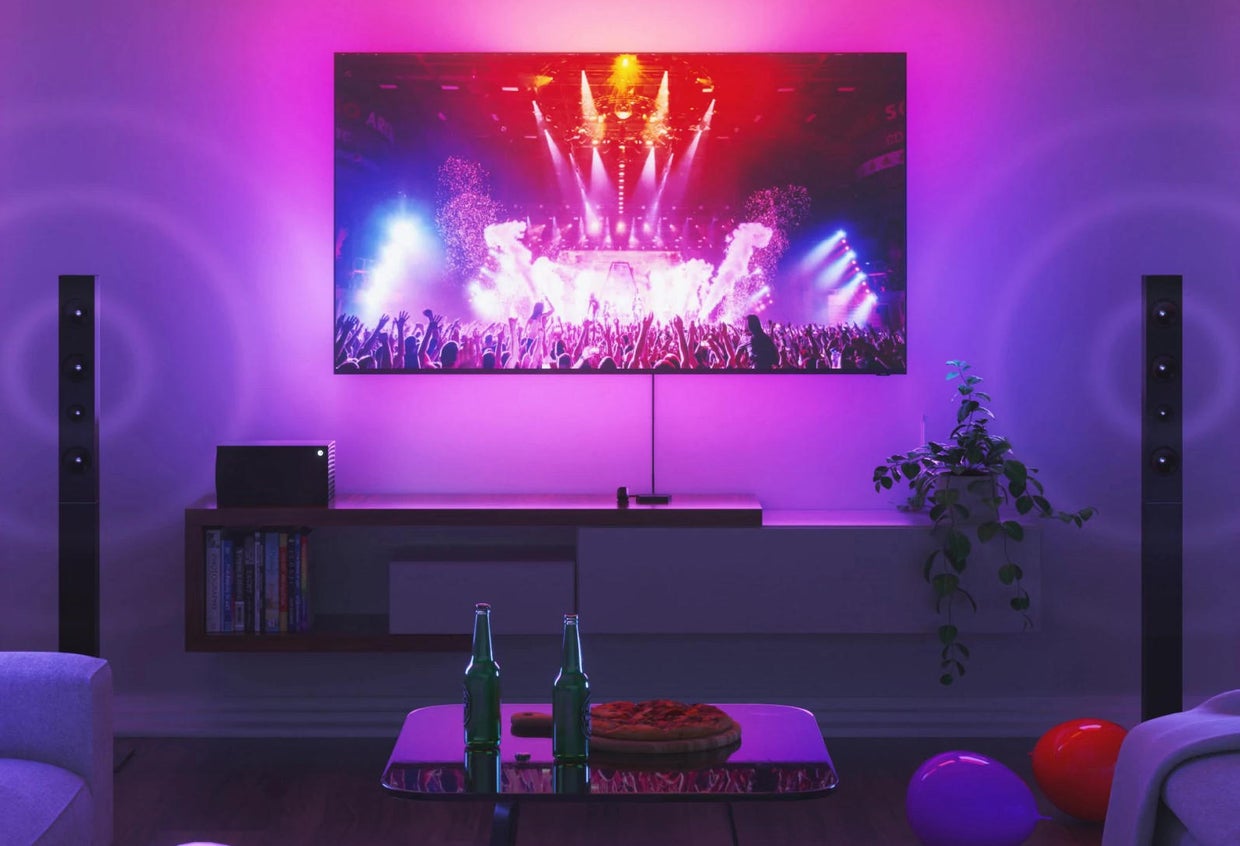 This smart lighting system, equipped with a camera, syncs with your TV to display immersive, dynamic colors. Over 50 LEDs create stunning visual effects across ten separate zones per meter, thanks to a tiny camera that optimizes real-time color selection.
The LEDs, which can accurately display more than 16 million colors, are integrated into a light strip that comes in two sizes -– one for TVs up to 65 inches, and the other for TVs up to 85 inches. Either light strip can be trimmed to fit perfectly behind the TV it's being used with. And when someone isn't watching TV, the lights are adjustable using the Nanoleaf mobile or desktop app, voice commands, or the included remote control. 
Choose from four screen mirror modes when watching TV, movies, sports or gaming to control light immersion. Sync with music for a fun audio-visual light show. With a 25,000+ hour lifetime, this gift promises years of enjoyment. Plus, you can expand it with Nanoleaf's other smart lighting systems for seamless synchronization.
Why we choose it: There are many LED smart light strips on the market, but this one easily mounts to any TV, is made from quality components, and can create an immersive viewing experience that's visually stunning. The whole setup is also very easy to operate and offers a wide range of ways it can be used beyond when just watching TV.
---
For the techie who can't cook: Brava smart oven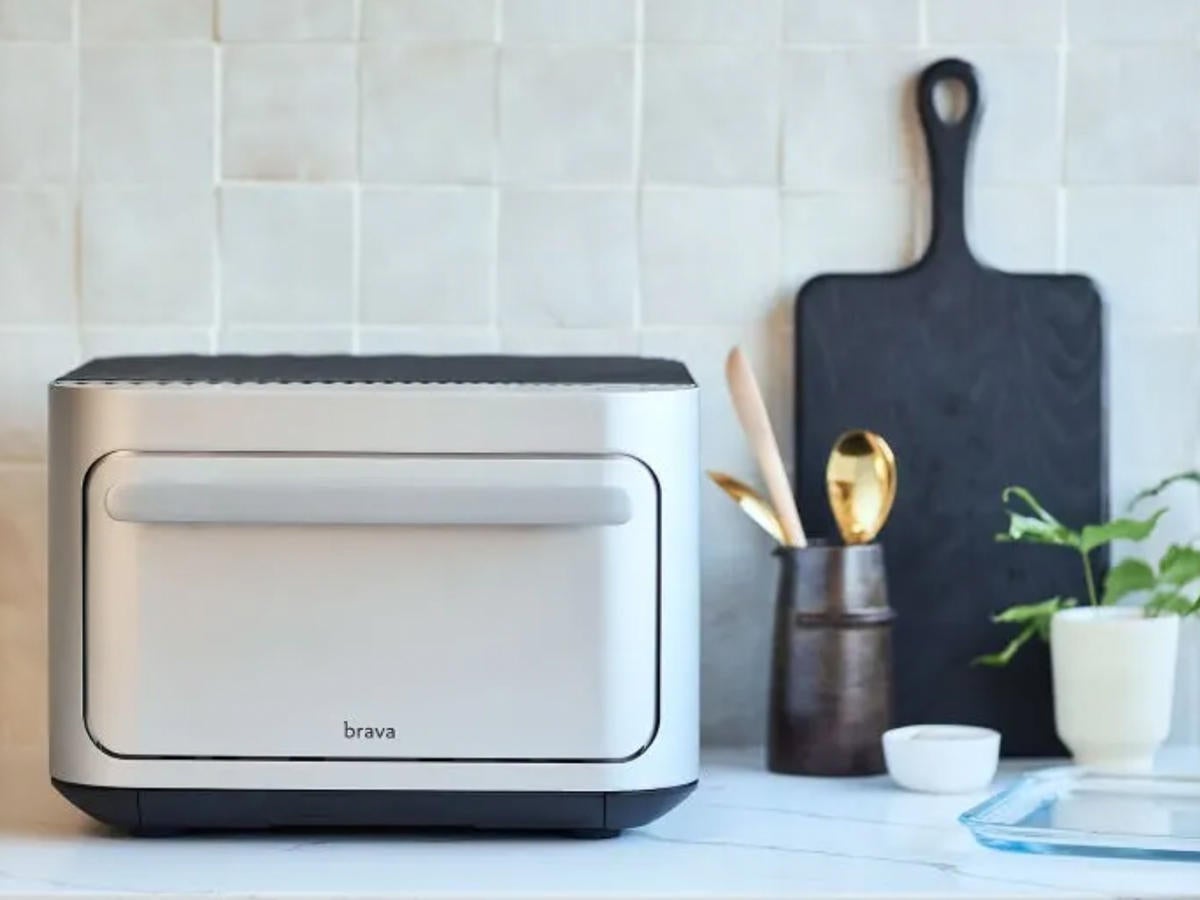 Preparing restaurant quality meals can be a hassle, especially if the person in charge doesn't know how to cook. That's where smart technology comes in. The Brava smart oven has all sorts of technology that helps makes preparing elaborate meals incredibly simple. This device is not your run-of-the-mill convection oven. It's actually 10 devices packed into one countertop unit.
The Brava smart oven can serve as a traditional convection oven, air fryer, toaster, slow cooker, reheater, dehydrator, rice cooker and more. It also roasts and bakes. And best of all, you don't need to know anything about cooking, baking or technology to prepare incredibly tasty meals using your own groceries. There's no meal subscription plan to sign up for. The "smart" aspect of this device has more than 7,000 customizable cooking programs that are quickly searchable and selectable using the mobile app. The oven is able to perfectly prepare three core ingredients (including a protein and vegetables) at the same time, with no need to flip or rotate food as it's cooking.
The Brava smart oven revolutionizes cooking by preparing meals 2 to 4 times faster than traditional methods and ensuring perfect results with technology. Just choose a recipe, place raw, frozen, or pre-cooked ingredients on a tray, press a button, and let the oven handle the rest. It notifies you when your meal is ready via smartphone. This versatile oven can cook various dishes, making meal options limitless, and cleanup is a breeze.
Why we choose it: The Brava smart oven is ideal for someone who lives alone or for a couple that needs to prepare enough food for a single meal, without generating waste or having to store leftovers. It's incredibly simple to use, and the types of meals, snacks and desserts this smart oven can prepare is practically limitless. 
---
For the frequent traveler: Allocacoc Power Cube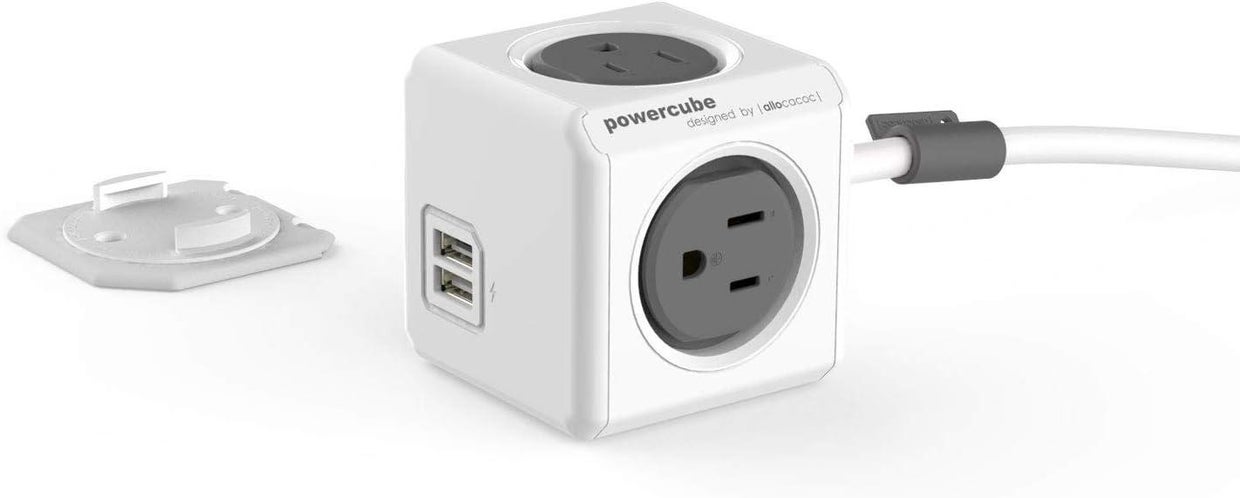 Anyone who travels a lot or works remotely from hotels, airports or coffeeshops knows that finding enough power outlets to keep a laptop computer and multiple mobile devices charged can be a huge challenge. 
That's where the Power Cube comes in handy. This 2.25 by 2.52 inch cube contains four power outlets and two USB Type-A ports, a surge protector and a 10-foot cable that plugs into a single electrical outlet. This makes it compact enough to travel with, but versatile enough to provide multiple power outlets when and where they're needed. This truly is a "must have" tool for frequent travelers. And at just $35, it's more on the affordable side too. 
Why we choose it: Power Cube is easier to carry around than a traditional power strip and extension cord. 
There's also a similar version of the Power Cube that's configured with five outlets and a 4.9-foot power cable (but no USB ports).
---
For the laptop computer user: Espresso portable monitor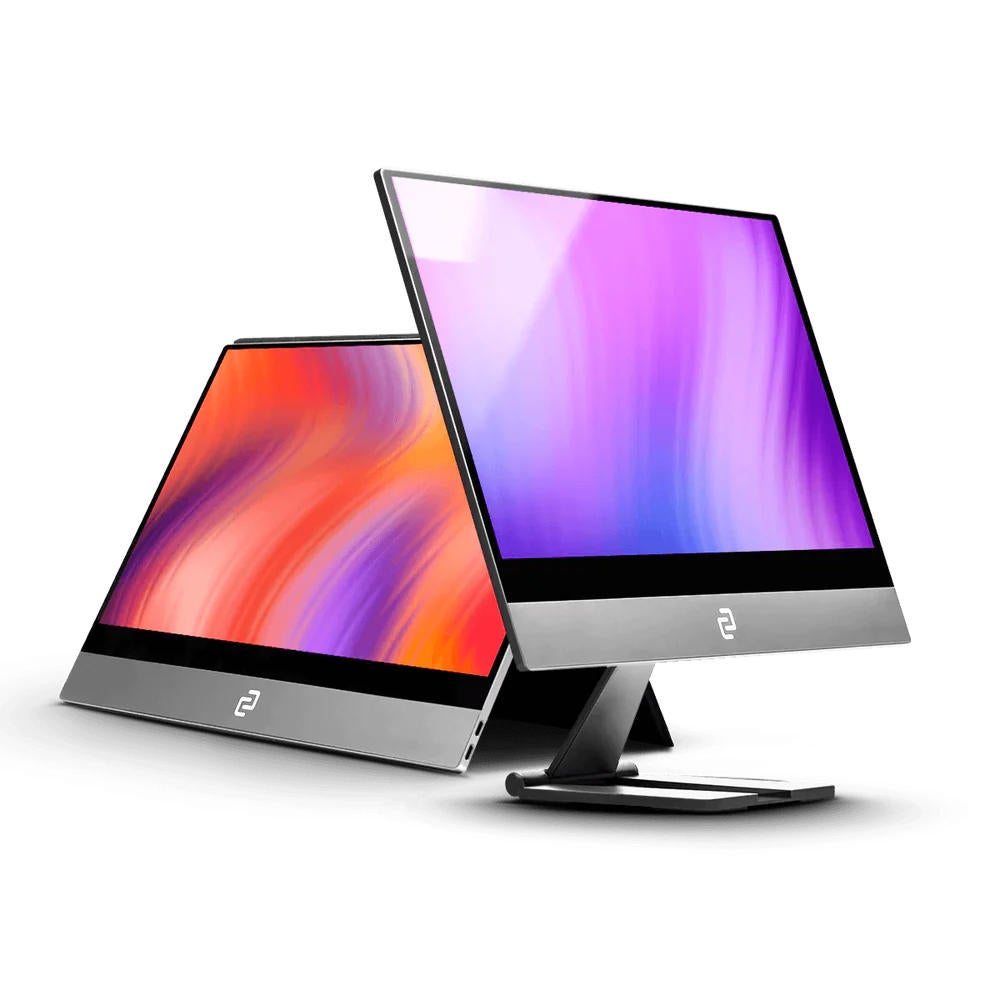 For anyone who spends a lot of time working on their laptop computer, the Espresso portable monitor provides one important feature — it can double your screen real estate. This can allow the user to be more productive and more easily multitask. 
Its 13.3-inch touchscreen display offers 1080p resolution and a 60Hz refresh rate. It also works with any Windows laptop or MacBook. It's a plug-and-play monitor that has built-in speakers and two USB Type-C ports. The monitor takes just seconds to set up (with no special software or drivers required) and it's powered using a single USB Type-C cable that connects to the computer. Since it's a touchscreen, the Espresso portable monitor works with a stylus too.
There are several key features that set the Espresso portable monitor apart from others. It's lightweight (1.5 pounds) and thin (just 0.2 inches). It also comes with a screen protector for use when traveling. Plus, it has an optional adjustable stand that attaches to the back of the monitor using magnets, making it one of the very few portable monitors with height and viewing angle adjustability. We highly recommend getting this monitor and optional stand together, so it can accommodate anyone's work habits. The monitor can be used in landscape or portrait mode, which expands its versatility. Oh, and this portable monitor can be used with most smartphones and gaming consoles too.
Why we choose it: For anyone who needs a portable monitor, this one offers just about every key feature someone could want. It has a maximum brightness of 300 nits and can display 16.2 million colors.
---
For the coffee lover: Keurig K-Cafe smart single serve coffee maker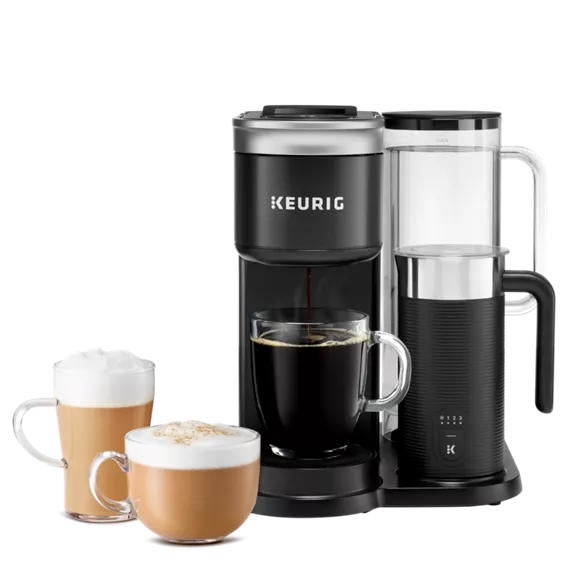 Do you know someone who loves coffee and spends a fortune at Starbucks or their favorite coffee shop? Well, here's a smart coffee maker that allows someone to enjoy a really good cup of coffee that's custom made to their personal taste and specifications. The Keurig K-Cafe smart single serve coffee maker is the ideal gift for caffeine addicts. It works with any of Keurig's K-Cups and has an integrated milk frother, allowing it to prepare coffee, lattes, cappuccinos, hot cocoa or tea. Users can also choose between preparing hot beverages or brewing them over ice.
What makes this a "smart" coffee maker, you ask? Well, it runs using a mobile app and immediately identifies whatever K-Cup is inserted into it. The coffee maker then adjusts its internal settings accordingly to bring out the flavor of the K-Cup's contents. Using MultiStream technology, for each beverage, it's possible to select the strength of the brew, as the coffee maker saturates the coffee grounds, for example, to extract the full flavor and aroma.
Users can select their mug/cup size (between 2 or 4-ounce coffee shots, or a 6, 8, 10 or 12-ounce cup). This countertop coffee maker can prepare a wide range of specialty drinks and even keeps track of a home's K-Cup inventory. When a specific flavor or variety is running low, the machine will automatically order more K-Cups (at a discount), so nobody in the household ever runs out of their favorite flavor or blend. Perhaps the biggest perk of the Keurig K-Cafe smart single serve coffee maker is the time and money it saves compared to constantly going to your favorite cafes. 
Why we choose it: From a technology standpoint, we found the Keurig K-Cafe smart single serve coffee maker to be easy to use. It offers a huge variety of hot and cold beverages options. It also gives users multiple options to customize their favorite drinks.
---
For the avid reader and notetaker: Amazon Scribe

For someone who enjoys reading, the Amazon Scribe is a full-featured Kindle e-reader that has been one of our top picks since it was first released. The 10.2-inch PaperWhite display mimics the look of paper and is visible in any lighting situation -– from direct sunlight to a dark room. With its 16GB of internal storage, this e-reader has enough space to hold thousands of eBooks or hundreds of audiobooks. Whether you purchase audiobooks one at a time or subscribe to Audible, simply pair wireless earbuds or headphones with the Scribe and whomever is listening will become immersed in the audio content.
Measuring 7.7 x 9.0 x 0.22 inches and weighing in at just 15.3 ounces, what sets Scribe apart from other e-readers is that it comes with a stylus, allowing someone to use this device as a digital note taking tool. Not only can the user create an unlimited number of digital notebooks, but each can contain any number of individual digital pages (containing notes or sketches). It's also possible to annotate eBook content, as well as any PDF documents imported into the device.
All of the key features someone could want from an e-reader and digital notebook are bundled into the Scribe, including 35 LEDs to ensure the screen is bright and easy to read in dark areas. The touchscreen display's resolution is 300 pixels-per-inch and the rechargeable battery literally lasts for weeks. The Scribe makes the perfect gift for someone who enjoys reading and listening to audiobooks. It also serves as a productivity tool for note taking and managing to-do lists. 
Why we choose it: Scribe enhances e-reading with added functionality while staying portable and lightweight for comfortable extended reading or note-taking. It connects to Wi-Fi, allowing direct eBook, audiobook, or PDF file transfers without a computer. Notes can be easily shared or automatically synced with your computer.
---
For the aspiring writer: Freewrite Traveler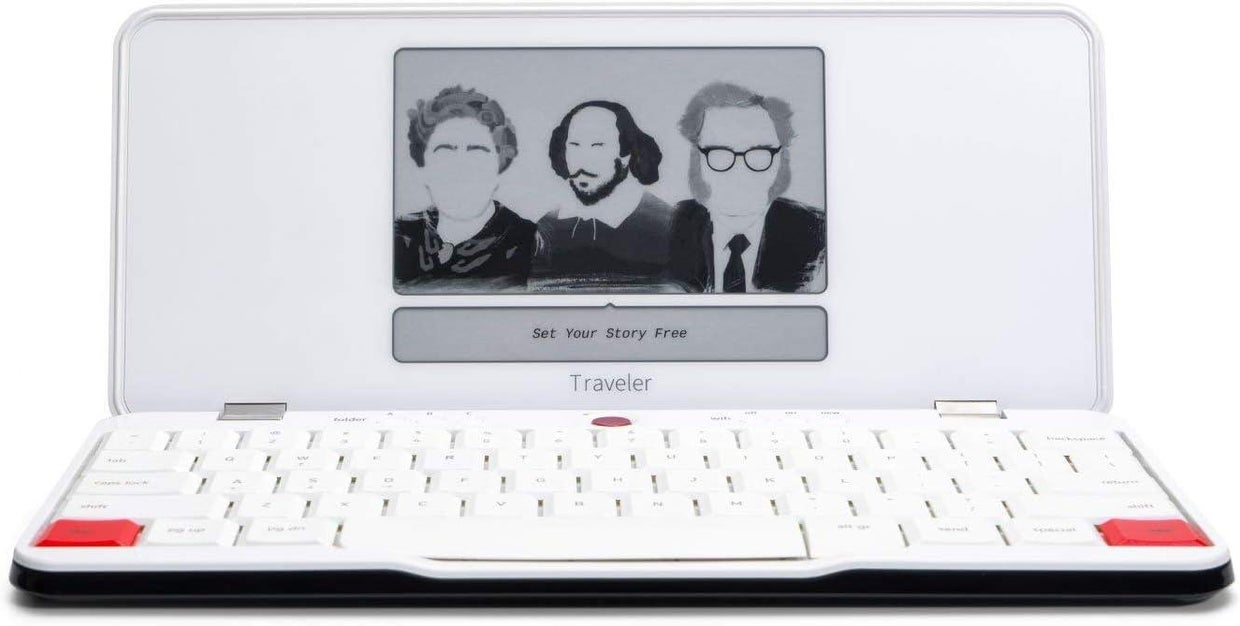 Is there someone you know who dreams of becoming a novelist or book author? Well, if they have trouble staying focused when they sit down to write on their desktop or laptop computer, because they constantly get bombarded by alerts, alarms, notifications, incoming emails and the urge to check their social media account, then the Freewrite Traveler is the dedicated digital writing tool they need.
This is a portable digital typewriter and that's it. It allows someone to focus exclusively on their writing, with no digital distractions. In fact, the Freewrite Traveler does not even use a full-featured word processor, so there are no restrictions related to formatting text or worrying about spelling and grammar checkers (until the editing process). The purpose of this extremely portable device is to allow someone to simply focus on their writing and allow their creativity to flow freely. 
As documents are created, they automatically sync with a cloud-based service (such as Google Drive, Dropbox, or Evernote), so they can be viewed, edited, printed or shared on a computer using any full featured word processor or text editor. Like popular e-readers, the Freewrite Traveler relies on an e-ink display that can be easily seen in bright light (including sunlight) or in a dark room. The screen does not cause eye fatigue and is virtually glare-free. The full-size keyboard uses responsive scissor switch keys, which makes typing smooth, more accurate and comfortable. And because the device is small (about half the size of a traditional laptop computer), lightweight (1.6 pounds) and its battery lasts up to four weeks, someone can get their writing done virtually anywhere. 
Why we choose it: The Freewrite Traveler is a great gift for accomplished or aspiring novelists, poets and authors who want a comfortable and distraction-free writing experience they can use whenever inspiration comes to them. Who knows, someone who receives this as a gift might be so grateful, they dedicate their next novel to you.
---
For birdwatchers and anyone with a terrace or backyard: Bird Buddy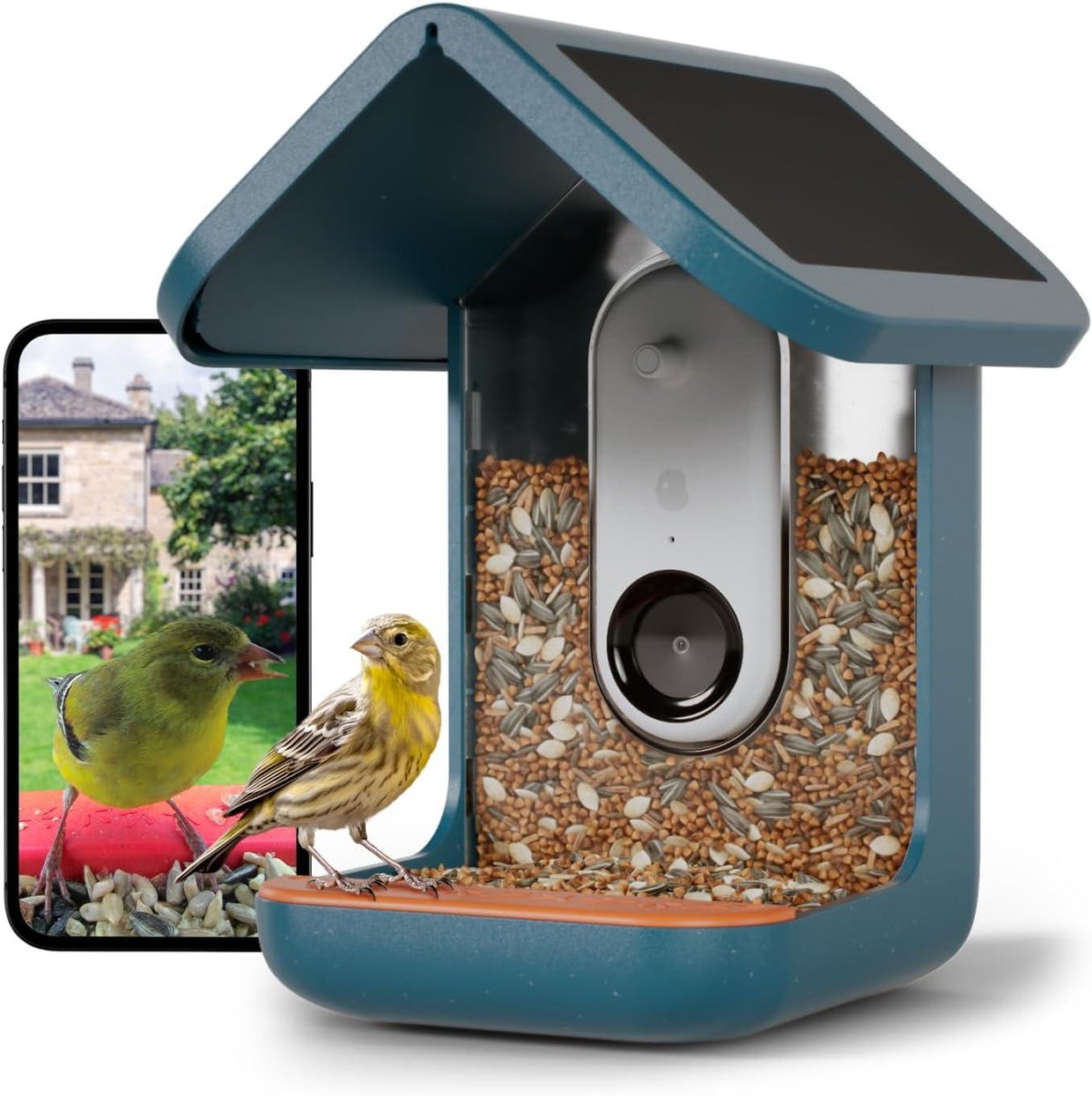 You don't need to be a "birder" to appreciate having a bird feeder in your yard or on your porch. The Bird Buddy looks like a traditional bird feeder, but it has some fun technology built in, including a camera and Wi-Fi connectivity. The camera offers a close-up and detailed "bird's eye" view of all birds that visit the feeder. Anyone can watch the live video feed from an internet-connected smartphone or tablet, record the video, or take still images. 
As birds visit the feeder, the Bird Buddy app instantly identifies and provides information about the bird species on your mobile device. Its extensive database includes over 1,000 species. The integrated solar-powered camera eliminates the need for battery replacement or recharging. 
The feeder features a motion sensor, alerting your smartphone to activity and capturing photos of visiting birds for later viewing. Simply connect the feeder to your home's Wi-Fi, load it with up to 3.8 cups of birdseed, and hang it on a tree or mount it on a pole, wall or fence. The feeder, measuring 8 x 8 x 10 inches and weighing 3.59 pounds (excluding birdseed), is weather-resistant and constructed from recycled plastic.
Why we choose it: The Bird Buddy is the perfect gift for anyone, regardless of age, who enjoys watching wild birds and learning about them. It's user-friendly, making it accessible even to those who aren't tech-savvy.
---
For nostalgic music lovers: Victrola Eastwood Signature 3-speed turntable
In today's digital age, streaming music via the Internet is the norm for anyone with a computer, smartphone, smartwatch, or smart speaker. Old formats like records, 8-track tapes, cassette tapes, CDs, and MP3 players are now considered obsolete. However, for those who cherish the memories of sitting by a record player, spinning vinyl records, and delving into the album's liner notes, these experiences can now be relived. 
Surprise someone with the Victrola record player, and watch their excitement as they retrieve their cherished albums from the attic or basement to revisit those nostalgic moments. The Victrola Eastwood Signature turntable offers three speeds and built-in speakers, providing everything needed to play records right out of the box, except for the records themselves. The setup takes just minutes, allowing you to enjoy any 33 ⅓, 45, or 78 RPM vinyl record.
The internal stereo speakers are also Bluetooth-enabled, so music can be wirelessly sent to other external speakers. The turntable weighs 9.63 pounds, making it easy to move from room to room. While the sound quality this turntable offers is good, it's not for a true audiophile. But what do you expect for around $150? If someone can't find their old records, a vast selection of new ones (from classic or contemporary artists and bands) can be ordered online from Victrola or many other online-based record store.
Why we choose it: The Victrola Eastwood Signature is an affordable and fun gift for someone who appreciates vinyl records (or to introduce this way of listening to music to someone from a younger generation). The turntable is easy to use, rather portable and has Bluetooth-enabled stereo speakers built in.
---
For carrying around a laptop computer: Timbuk2 Custom messenger bag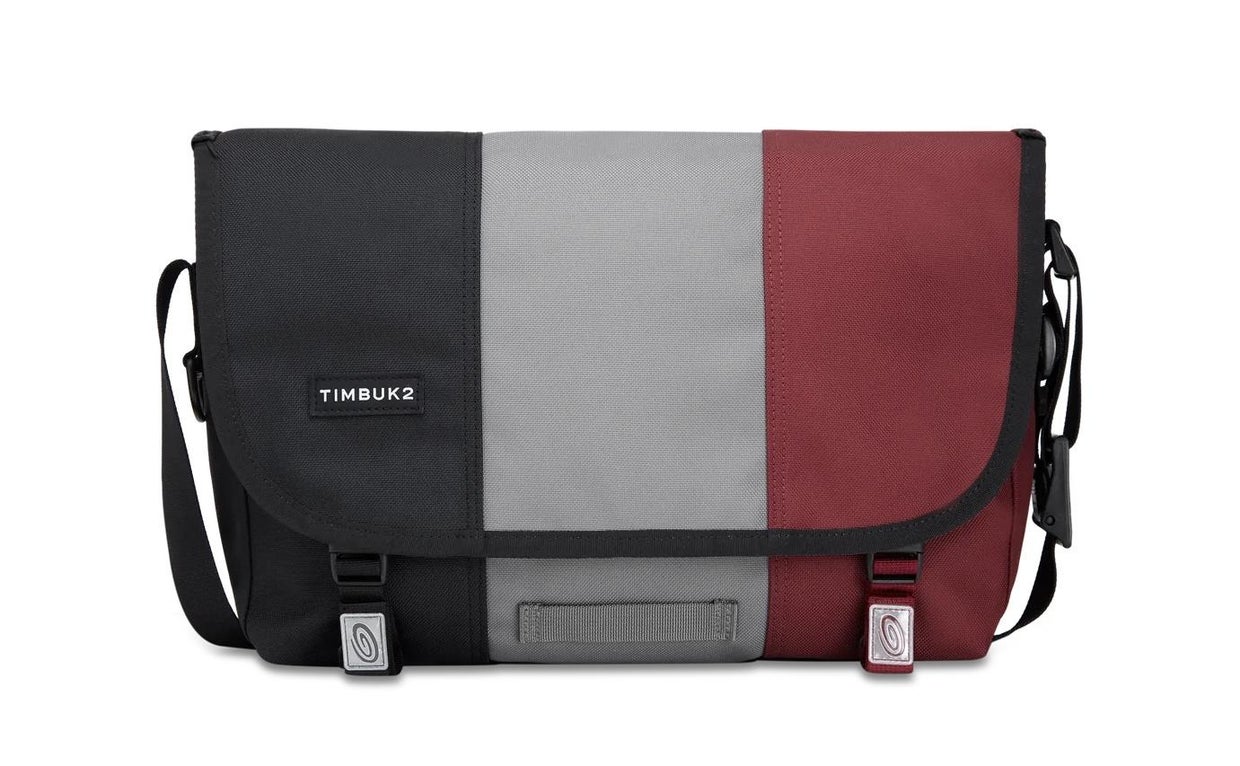 TimBuk2 is a San Francisco-based company that makes high-quality messenger bags, luggage and backpacks that are extremely durable and come in a wide range of sizes and color combinations. However, instead of choosing a pre-made bag to give to someone as a gift (which you can certainly do), the Timbuk2 website has a bag design tool that allows anyone with a computer to custom-design their own messenger bag–-which will then be created and sent to their home within days.
To give a custom messenger bag to someone as a gift, get them a digital gift card from the TimBuk2 website for $150 (or more). The recipient will be able to redeem that gift card online and then choose the style, colors and accessories incorporated into their custom bag. For example, a padded laptop sleeve can be added to a messenger bag, along with a drink holder pocket and an upgraded padded shoulder strap. 
Why we choose it: Not only are the TikBuk2 bags extremely functional and versatile, they're also well made and designed to last for years. Even the smaller size messenger bags can hold a laptop computer in a padded compartment, while keeping other belongings well organized and easily accessible. Plus, someone can have as much fun designing their own bag as they will using it during their day-to-day adventures.
---
For easily showcasing digital photos: Skylight frame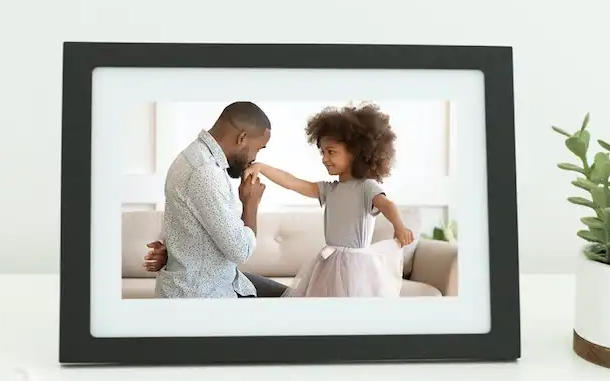 Do you know someone who is not at all tech savvy and who isn't active on social media, like your mother-in-law or grandmother? Well, the Skylight digital photo frame is the perfect gift. It's extremely simple to set up. Once it's connected to a home's Wi-Fi, anyone who is invited to can email the frame photos or video clips, from anywhere in the world, using their smartphone, tablet or computer. The frame actually comes with its own unique email address which makes sending content to it as easy as sending an email. Once delivered, the frame starts displaying the images within a minute or two and then adds the new images to its constantly playing digital slideshow.
The Skylight frame offers a 10-inch, high-resolution (1,2080 x 800 pixel) touchscreen display and has enough internal storage to hold more than 8,000 images. The frame surrounding the screen comes in black, silver, white or gold. From the settings menu, the frame can be set to an always on mode, or follow a predetermined schedule to automatically turn itself on and off.
One handy feature is the frame's "gift mode." It allows for someone to remotely pre-configure the frame and deliver initial photos to it, so all the recipient needs to do is take it out of the box and plug it in. Then, as photos or video clips are displayed, someone can swipe forwards or backwards to scroll through the stored images. Otherwise, they'll be displayed as part of an animated slideshow at the speed the user selects. One other great thing about this digital frame is that there's no ongoing subscription associated with it. Please note that the area where the frame is placed must have a continuous Internet connection via Wi-Fi to be able to receive images.
Why we choose it: The Skylight frame can be pre-configured remotely. Invited friends and family can then email photos directly to the frame.
---
For the wellness fan: The Oura ring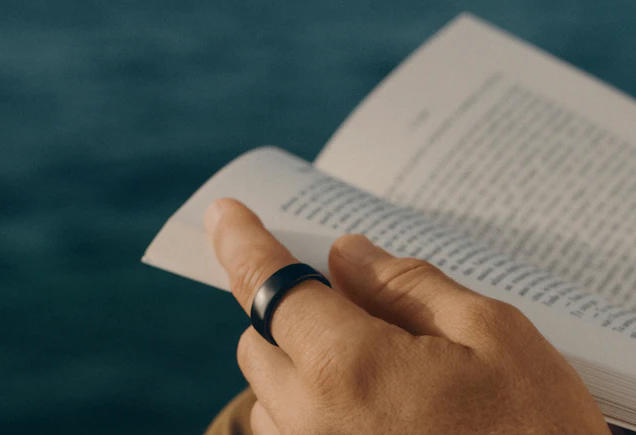 Many smartphones and smartwatches come equipped with sensors to monitor various aspects of health, such as sleep patterns, stress levels and daily activity. However, these devices can be bulky and not always convenient to carry. Enter the Oura ring, a stylish 24/7 health tracker worn on your finger. It can monitor sleep, workouts, menstrual cycles, and more, with a battery life of up to a week and easy recharging using the provided charger.
Once users select their ring size and design on the Oura website, they receive their ring, which can be set up in minutes through the Oura mobile app. This ring keeps tabs on heart rate, body temperature, blood oxygen (SpO2) levels, activity, stress, and sleep patterns. It securely and wirelessly transfers this data to the user's smartphone for analysis and storage. The Oura app, available on iOS, Android, and Apple Watch, provides insights into health, fitness, and sleep patterns, allowing users to track their progress and check various results based on their chosen metrics. 
Users can share data with Apple Health, Google Fit, and various other health and fitness apps for comprehensive analysis and insights. We love the Oura ring not only for its style and color options but also for its user-friendliness and comfort, weighing less than most traditional jewelry. To fully utilize the Oura ring, users will need an ongoing $5.99 per month subscription.
Why we choose it: The Oura ring can comfortably be worn 24/7, including in the shower, bathtub, or while swimming. It's available in two styles and a variety of colors. This is a great gift for someone who has trouble sleeping or who wants (or needs) to keep better tabs on their health and activity level. It's much more convenient to use than similar functionality that's offered by a smartwatch or activity tracker, because it can unobtrusively be worn all day and night on a finger.
---
For the adventurer: GoPro Hero 12 Black action camera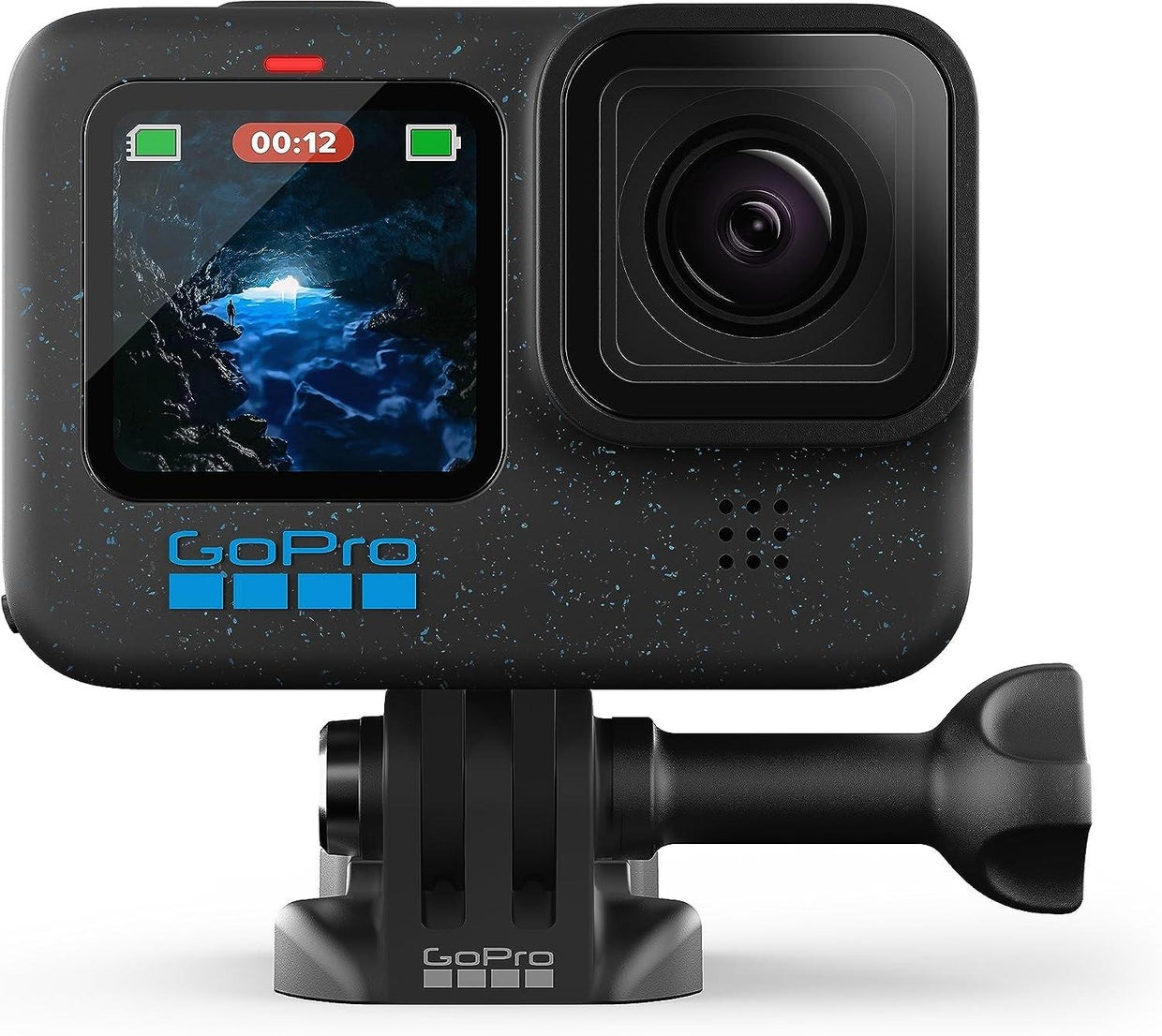 The GoPro Hero 12 Black is our top pick for best action camera of 2023. It can be attached to a person or equipment and capture stunning and immersive content using a wide angle lens. The small size and durability of the camera makes it ideal for capturing photos or videos while engaged in intense activities like skiing, surfing, scuba diving, biking or skydiving. However, it can just as easily be used as a compact camera to take along on vacation.
Using the new easy sontrol mode, the GoPro Hero 12 Black can emulate an easy-to-use, point-and-shoot camera that can switch between taking still images at 27MP and HD video at up to 5.3K (30fps) resolution. The camera also offers a variety of unique shooting modes that allow it to capture vivid and clear content in almost any lighting situation and in locations where you'd never take a traditional camera or use the cameras built into your smartphone (like underwater or in extremely hot or cold temperatures).
Beyond the core capabilities of the camera itself, what sets the GoPro Hero 12 Black apart from other action cameras is the vastness of the GoPro ecosystem, which includes dozens of optional mods, mounts and accessories, a dedicated cloud-based service for content storage and a powerful mobile app. The Quik app can be used to remotely control the camera, view and edit photos or videos and then share that content in a variety of ways-–all without needing a computer. Be sure to check out our full review of the GoPro Hero 12 Black to learn more about it.
Why we choose it: The GoPro Hero 12 Black is easy to use, offers an extended battery life (compared to previous models) and can be used in a wide range of situations. It does a great job capturing vacation memories, but can also be used to record hands-free, pro-quality photos or videos while the user is simultaneously engaged in various activities. This makes it the perfect gift for someone who is adventurous or who loves to travel.
---
For the person with two phones: Zagg / Morphie 4-in-1 wireless charging pad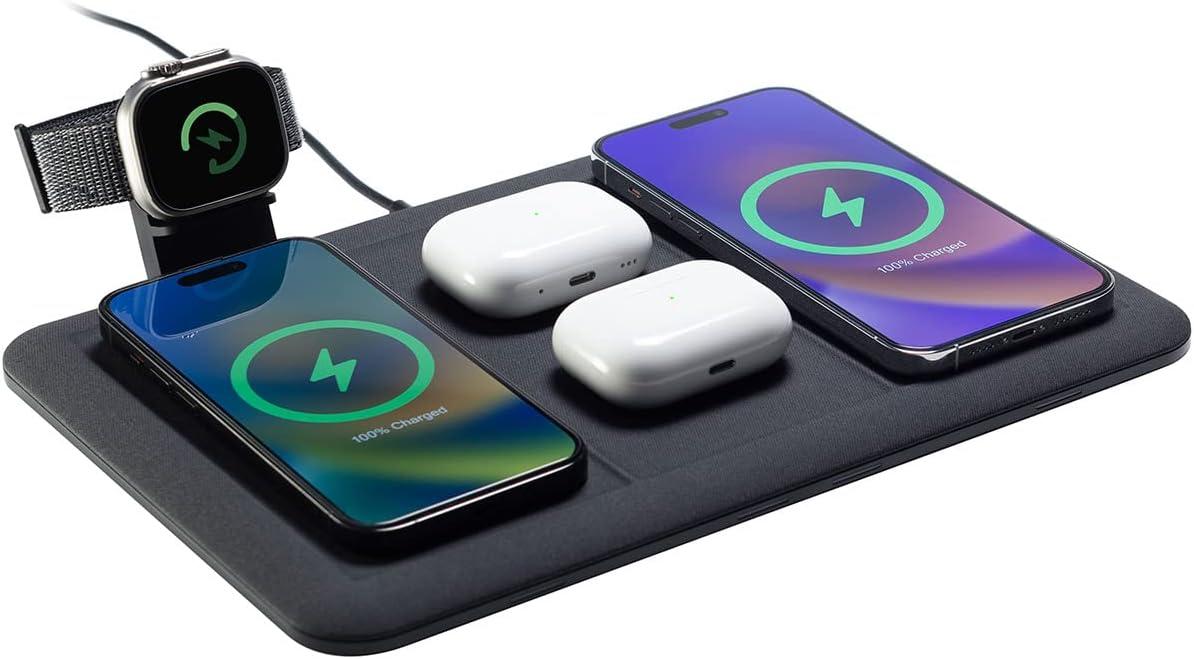 For those juggling multiple mobile devices such as work and personal smartphones, smartwatches and wireless earbuds, charging can be a hassle. Tangled cables and numerous power adapters are a common sight. The Zagg/Morphie 4-in-1 wireless charging pad is the perfect gift for such individuals. 
With just one electrical outlet, it can charge up to four devices simultaneously, all without the need for any charging cables. This sleek and thin charging pad can easily find a place on a desk, tabletop or nightstand. It's compatible with iPhones, Apple Watches, AirPods, most Android smartphones, and other Qi-enabled smartwatches and wireless earbuds. It even boasts an additional USB Type-A port for charging a tablet with a cable. 
Why we choose it: This charging pad is well made, has built in technology that protects against problems such as overcharging or overheating, and it allows for smartphones within cases (up to 3mm thick) to be charged without having to remove the case. 
---
Related content from CBS Essentials