If there is one skill you must master to be an expert in digital marketing, it is to understand the most effective search engine optimization (SEO) tactics. It is a vital digital marketing tool for increasing brand awareness, networking and establishing a credible position in your field. SEO improves the visibility of specific websites in search engines like Google. Undoubtedly, this is one of the most in-demand skills today.
The easiest way to learn this skill is to enroll in online SEO courses that allow you to learn from the comfort of your home.
In the age of highly competitive online businesses and ever-changing algorithms, you need to be up for the challenge and keep yourself updated with new SEO strategies. Taking up SEO courses online can be your first step towards improving your skills.
If you are looking for the best SEO courses without spending a penny and also earning possible certification, you are at the right place.
Free Online Seo Courses with Certifications
Below are the top trending free SEO courses that have everything you need to learn to tackle the current market in 2023. Let's dive into the list of courses that will help you become an SEO professional in a short period of time and also give you a free SEO certificate to showcase your skill.

Semrush is well-known for its outstanding digital marketing, resource bundles (ebooks, webinars), and Semrush Academy, which houses some of the best courses taught by well-known marketing experts. Semrush SEO courses are well worth your time. By the end of this course, you will have a tested strategy to gain more traffic from Google to your website, taught by Brian Dean, an SEO expert and founder of Backlinko, one of the most popular digital marketing resources online. The course will cover everything from the basics of SEO to the steps required to rank in Google. This course will also teach you how to create outstanding content.
Course Highlights –
Learn about search engines and the factors that Google uses to rank websites.
Learn how to do keyword research and untap its power.
You will be able to create excellent content around the preferred keyword easily.
Learn about link building and how to use it.
Get a guide to track and monitor your SEO results.
Duration: 4 hours
Level: Beginner to Intermediate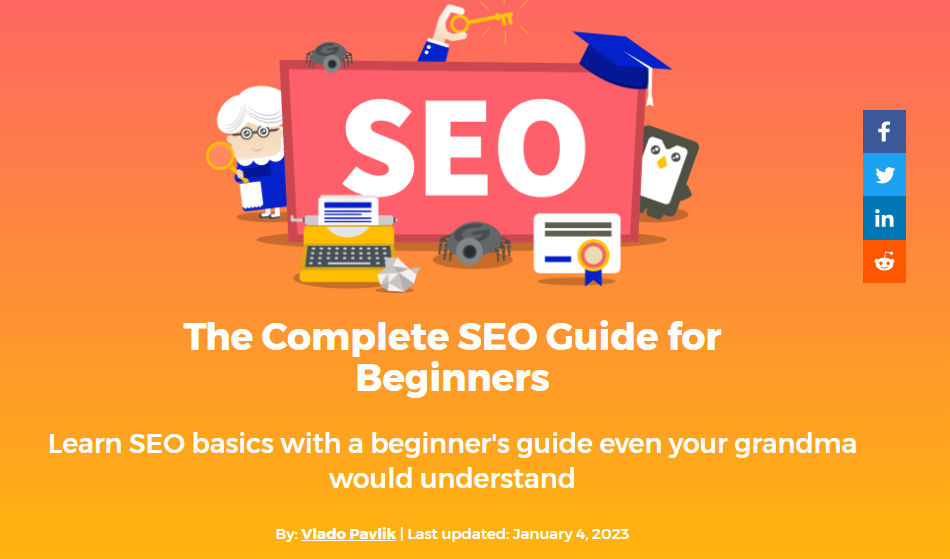 Mangools is well-known for its infamous SEO tools, which have assisted millions of websites in changing their marketing strategy. If you know nothing about SEO and want to learn it in a simple language, this free course by Mangools is for you. They always keep their course content up to date with current market trends. You will learn the fundamentals of SEO as well as a few advanced topics such as content optimization, on-page and technical SEO, backlinks and link building, and analytics and metrics.
Course Highlights –
Learn the SEO jargon, so you don't get confused.
Discover the strategy required to increase organic traffic to your website.
Discover the three secret ingredients required for your website to rank higher in search engines.
Learn the distinction between white-hat and black-hat SEO.
Discover SEO tools and how to use them.
Duration: Self-paced
Level: Beginner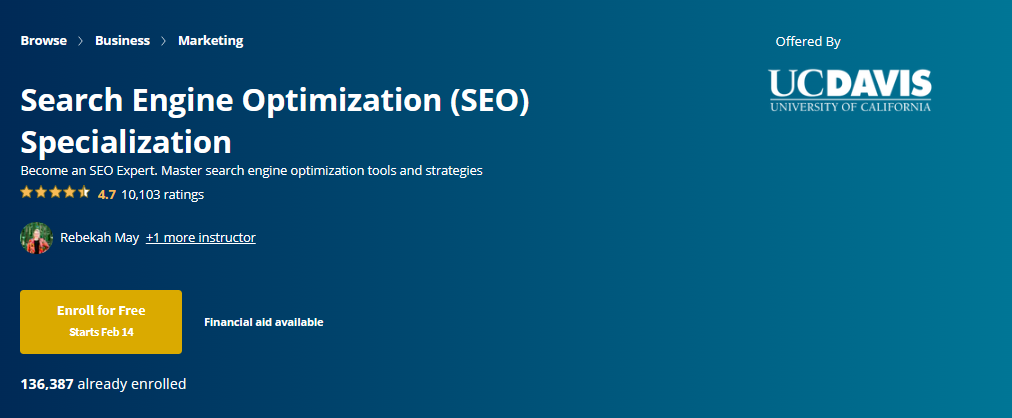 Coursera is well-known for educating millions of students in a variety of specializations, as well as for providing excellent programs with high ratings. This course is offered by the University of California and is taught by SEO experts Rebekah May and Eric Enge. You'll learn how to optimize website content for the best search engine rankings and the theory behind Google's and other search engines' algorithms. This course will also teach you how to optimize your content based on audience zones and how to align SEO with overall business strategies.
Course Highlights –
Complete a competitive analysis on a webpage.
Create a solid strategy for maintaining a productive and successful relationship with your client.
Create influencer relationships and collaborations, as well as data analysis to determine which content receives the most shares.
Create a final report detailing your findings and SEO recommendations and present it to the client.
Learn about optimization mathematics.
Duration: Approximately 5 months
Level: Beginner Level with 2 Years of Business Experience

Simplilearn is a free library of courses, resources, and guides on a variety of important specializations, made available to anyone looking to learn a new skill or expand their knowledge. The best part about this platform is that you will receive a certificate upon completion of the course. With this program, you will gain expertise in SEO by conducting in-depth research on the subject. You will learn about content marketing, how to optimize your website, web analytics and how to use them for growth, and a variety of other important topics. This course also discusses the importance of website design and architecture. This course also covers advanced topics such as advanced web analytics and content marketing.
Course Highlights –
Learn what duplicate content is and how to fix it.
Get the skills to research and find the best keywords.
Learn about URL management.
Get to know the three types of SEO.
Slowly progress yourself from basic to advanced topics at your own pace.
Duration: Self-paced
Level: Advanced

The eMarketing Institute is a platform offering many digital marketing courses with certifications. You can find more than 150-course materials on their website, all free for people who want to level up their skills and careers. This platform also offers free eBooks on various topics of digital marketing and has millions of active users. The SEO course for beginners from the eMarketing Institute has excellent ratings. You can also get this course in HTML or PDF format, and there are 50 sample questions within the course to test your knowledge. You will be awarded a certificate if you complete the course and pass the test. This course will teach you SEO strategy from the ground up.
Course Highlights –
Understand the outline of search engine optimization.
Learn the basics of designing and developing an SEO-friendly site.
Learn about Google Panda and other algorithm updates.
Get recommendations on search engine tools and services.
Learn about link-building tactics and metrics.
Duration: Self-paced
Level: Beginner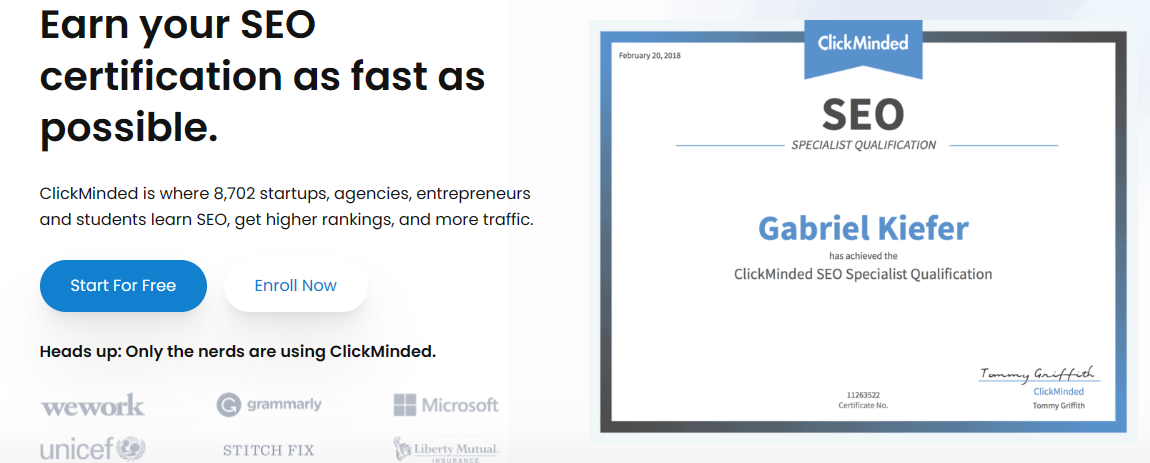 ClickMinded is a hub for world-class digital marketing courses and white-label documentation, or SOPs (standard operating procedures). They offer one of the best SEO certifications, which is widely recognized by many reputed companies and job platforms such as LinkedIn. This course is taught by Tommy Griffith, who has been an expert in SEO strategy for nearly 10 years and has managed search engine optimization at companies such as PayPal and Airbnb. You will get to know the 22 tools used by the instructor to create the ideal SEO environment and learn everything about SEO strategies. After you pass the final exam, you will be awarded the SEO certificate.
Course Highlights –
Learn how you can strategically use SEO to boost your entire sales funnel.
Discover how to identify the right keywords and create a content strategy.
Learn to reverse engineer your competitors to find easy-ranking opportunities.
Learn how to use CRM for link building to send personalized emails that get links.
You will get lifetime access to ClickMind's five SEO mini-courses.
Duration: Self-paced
Level: Beginner to Intermediate
Best of Free SEO Courses
You can become an SEO professional even without a free SEO certificate. Below is the list; we have included the best of the free SEO courses for you that has everything you need to change up your SEO game.

If you are just starting out learning SEO tactics and strategies and are looking for a detailed explanation from the basics to more important topics, enroll in this free SEO course by Moz on Udemy. You will learn both internal and external facets of driving search engine traffic to any website you want. You will gain an understanding of the various strategies employed by companies to tackle SEO optimization, comprehend numerous distinctive components used by SEO specialists, and quickly grasp the generalized and expansive subject of website optimization. This Udemy course, which has received many favorable reviews, will be your best place to start for mastering website optimization.
Course Highlights –
Learn what it takes to become an SEO specialist and how to find effective keywords.
Gain five-step SEO audit strategies that will help you learn the fundamentals easily.
Learn the tricks to creating demand for a site with little or no search volume.
Learn how to build links and what is meant by "off-page SEO."
Get to know everything about SERP features and reporting on SEO.
Duration: 3 hours 26 minutes
Level: Beginner

This fantastic free training course by Yoast is well worth your time. The course is given in very simple language for ease of understanding. This course covers SEO and search engine algorithms from both a theoretical and technical standpoint. You will learn the fundamentals of SEO optimization and how the Yoast SEO plugin can assist you in ranking higher.Improve your SEO skills by learning everything there is to know about Google Analytics and the power of the right keywords. One of the most important topics covered in this course is web crawling and how to check it and roll out the red carpet for search engines. You will also learn about Google's "rich results" and how to make your website appear among them. As a beginner, you should definitely take this course.
Course Highlights –
Learn how to make your website rank higher on Google, Bing, or Yahoo.
Obtain the PDF files that come with the SEO training that will help you when working on your website.
Use the cheat sheet on SEO vocabulary to get the job done.
Train yourself by taking free online quizzes.
You will also receive videos of Joost de Valk, a well-known SEO expert and the founder of Yoast.
Duration: Self-paced
Level: Beginner to Intermediate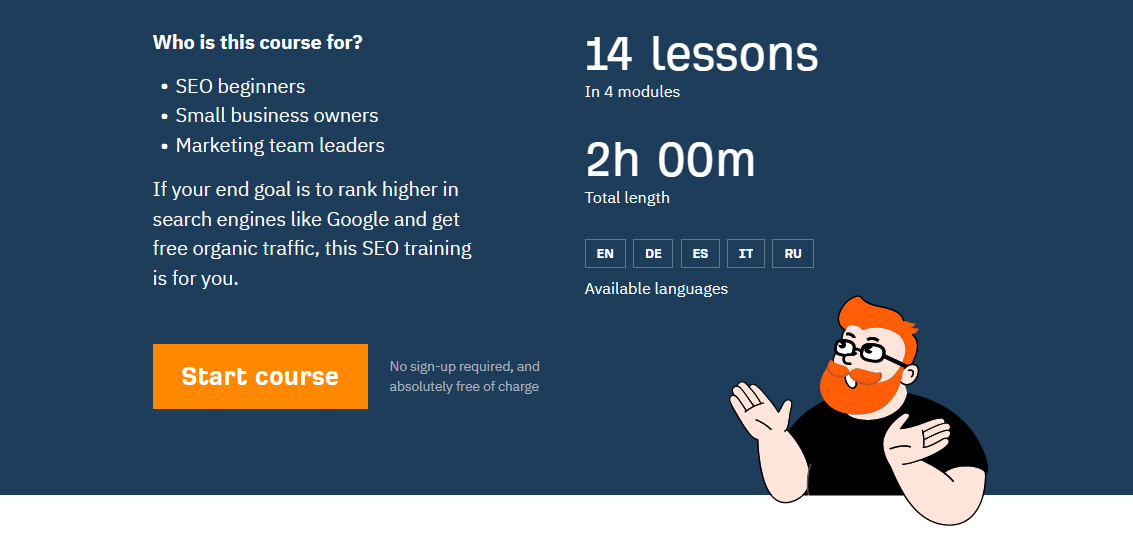 Ahrefs offers many sought-after courses on SEO with excellent reviews. As a beginner, you will enjoy this course, which is taught by a renowned company known for providing detailed explanations. The course offers a quick lesson on everything you need to learn about SEO strategies. You will learn the importance of link-building and get beginner-friendly link-building strategies to get backlinks to your site, how to do a keyword search, and how to optimize pages for search engines.
Course Highlights –
Learn how to get organic traffic and backlinks to your site.
Learn how to analyze searcher intent.
Know how to optimize a page for a specific keyword.
Get a beginner's guide to the technical aspects of SEO optimization.
You don't even have to register to take the course.
Duration: 2 hours
Level: Beginner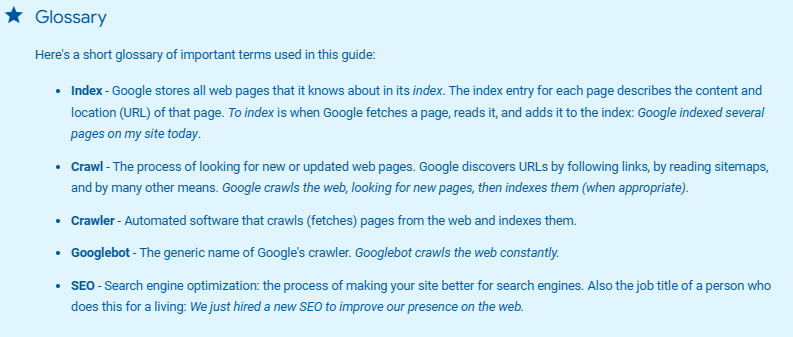 Do you want your site to rank higher on Google? Then check out Google's own starter guide, which seems to be a gift for digital marketing enthusiasts. This course has everything you need to master SEO optimization. Google's starter guide, designed specifically for developers, is not a typical video course, but you will find it very useful and will refer to it whenever necessary. You will be able to take a look at what Google looks for in a website and how the data needs to be structured to show up in search results. You will find this course more useful when you are trying to trigger Google snippets and info boxes.
Course Highlights –
Learn how to create useful content that people want.
Learn how to maintain your site's SEO.
Discover crawling and indexing.
Discover monitoring and debugging.
Duration: Self-paced
Level: Beginner to Advanced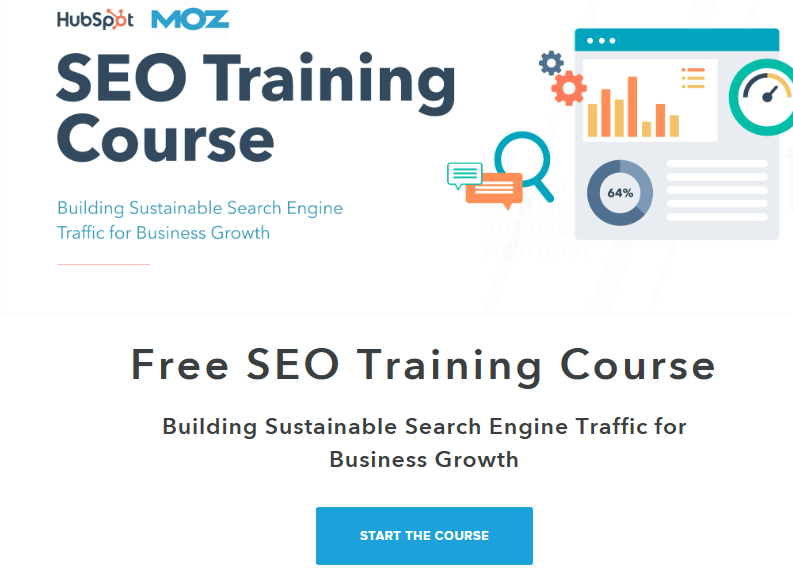 HubSpot is a CRM platform that brings together everything that growing businesses need to deliver a world-class customer experience in one place. HubSpot courses are taught by leading experts around the world. This SEO training course by HubSpot will give you a strategy to build sustainable traffic for business growth. You will learn how to build a backlink profile and measure it, as well as what crawling, indexing, and ranking or authority are. You just need to register to start the course right away and change your SEO game. You will find this course very engaging, especially with the availability of free quizzes.
Course Highlights –
Learn how to assess and improve the SEO of your website.
Create backlinks to your website on a large scale.
Discover the strategies used by HubSpot's blog team to rank first on Google.
Impose a chronological optimization process to rank for target topics using previously written blog posts.
Determine the number of links required for your website to appear on Google's first page.
Duration: 1 hour 35 minutes
Level: Beginner to Intermediate

Neil Patel Digital is a reputed digital marketing agency that specializes in providing services to clients worldwide. Their platform provides everything a client looks for, including digital marketing tools and SEO training taught by excellent professionals. SEO Unlocked by Neil Patel is the perfect course for you if you need to master SEO strategy in less than two months. This free course will take you from a simple introduction to SEO to more advanced topics such as branding and customer experience. You will also be provided a personal goal worksheet, which can help you track your progress. The course itinerary is classified into three executable phases not to leave any topic behind.
Course Highlights –
Learn how to do proper keyword research.
Discover the skills needed for advanced content marketing.
Learn how to supercharge content.
Learn how to set up Google Analytics and Search Console and use their advanced features.
Build a powerful brand that stands out.
Duration: 7 weeks
Level: Beginner to Intermediate
Wrapping up!
Taking an SEO course is the first step towards becoming an SEO expert and applying your knowledge to advance in your career or start your own business. With the growing demand for digital marketing experts, SEO specialists have a plethora of opportunities ahead of them.
We hope you found our list of SEO courses inspiring and that you are ready to up your SEO game right away.
Frequently Asked Questions
Are Online SEO Courses Good for Inclusion on The Resume?
Without a doubt! SEO is one of the most visible and rapidly expanding fields in digital marketing, and recruiters are looking for knowledgeable and tactful candidates in this area. Including an online SEO course on your resume can be the first step in demonstrating your SEO knowledge and abilities.
Do I Need Coding for SEO?
No, you do not need to know how to code to do SEO. Most SEO jobs do not require any coding, and you can do a good job without any coding knowledge. But if you have basic skills in HTML, CSS, PHP, JavaScript, or Python, it will be easy to identify SEO's technical aspects.
Is SEO a Good Career?
Yes, working in SEO is one of the best careers in digital marketing, and the future of SEO specialists looks promising. Companies require SEO specialists to create better content and generate more revenue.